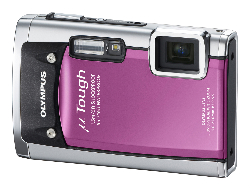 Digital cameras aimed at the sports market often resort to bulky designs and a lack of effort towards anything resembling style.
Step forward Olympus and the Tough-6020.
Boasting 14 megapixels and an HD movie mode, the people behind Olympus claim it can survive up to 5m underwater, -10oC temperatures and a drop of 1.5m.
So it'll take the pressure off if you plan on taking photos on your scuba diving holiday. In Alaska. Surrounded by big rocks and stuff.
But will the photos look good?
The Tough-6020 is a simple looking camera, with a large LCD screen (replacing the viewfinder), basic setting options and a speaker section for the HD movie function. The buttons are all slim and small, which surprises me considering the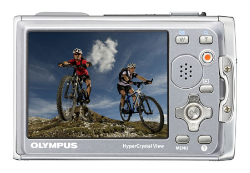 fact that it's aimed at those who need quick and easy access to the correct ones. The on/off button is particularly difficult to press if you're wearing gloves.
The camera allows you to take a photo with a variety of modes, including 'iAuto' (which does all the work for you), 'Magic' (which takes the image with various effects) and 'Panoramic' (allowing you to create a panoramic image). The latter will let you take some amazing underwater shots.
No expertise needed for taking a photo, just point and shoot. Same goes for the movie function, which is accessed with the red record button.
Let's recap before we talk about photo quality.
Wins points for:
Design. It's smart and compact, and weighs the same amount as my standard digital camera.
Element-resisting features. Waterproof, shatterproof, freezeproof AND dustproof? Lovely.
Flexibility of modes. Giving you plenty to play with.
Loses points for:
🙁 Narrow, fiddly buttons. Therefore making it difficult to use whilst wearing gloves.
🙁 If I'm picking holes, I'm not mad keen on the glossy pink cover, which looks a little tacky.
🙁 Price. RRP £319.99. *winces*
And the picture quality? It's excellent. Clear images, high definition zoom quality, and the video sound is crystal clear.
Conclusion
If you're idea of a relaxing holiday is abseiling down a cliff edge or mountain biking across the country, then you'll love this camera. For the rest of us, it might be better to just invest in a waterproof case for your current camera. You can find them on Amazon.
Olympus Tough-6020, Amazon, £254.60
Olympus Tough-6020, eBay, £249.99