This is an entirely superfluous and decadent gadget: you will buy it simply for the purpose of indulging yourself.
The SmartBand Talk SWR30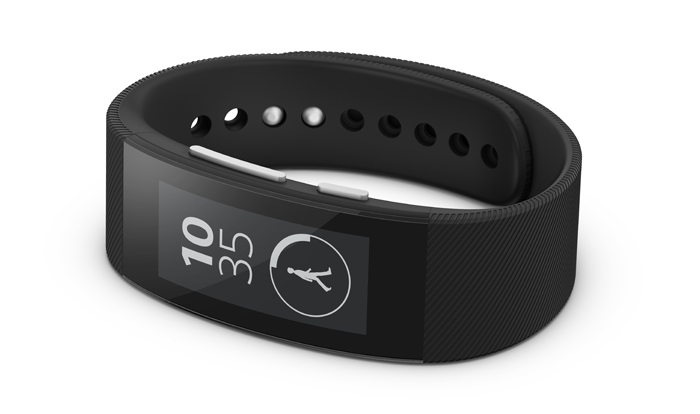 Sitting in its minimalistic case, the SmartBand Talk SWR30 looks pristine and tempting.
Shiny and light, a little bulkier than a wristwatch with a curved face that spans the width of a wrist, the SmartBand Talk is a gadget of many trades, possibly master of none.
In short, it's a hybrid of a Jawbone-style fitness tracker and a smartwatch. It can track many things, including your running, walking and sleeping, but it will also alert you to new emails and work as a hands-free speaker for voice calls.
And it will tell you how long you've been on the internet reading SmartBand reviews when you should be working.
Using the SmartBand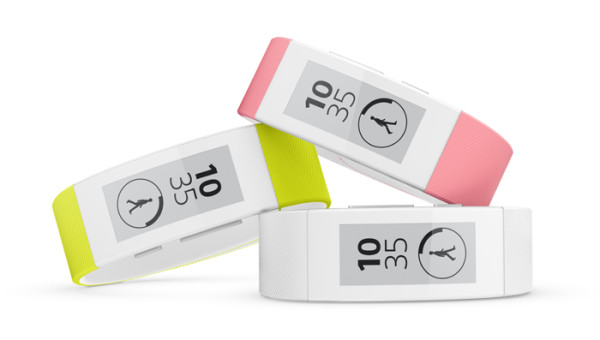 The SmartBand's detachable rubber strap can be replaced with rubber straps of various colours. It's pliable and easy to fasten, and the whole thing is light enough for you to forget about it when it's on.
You need to download the SmartBand Talk SWR30 app on your phone and link it to the wearable via Bluetooth. The SmartBand Talk will then synch to the local time and connect with the email, Facebook and Twitter accounts that your phone has access to. It'll start working immediately, alerting you to any notifications with a gentle buzz.
The device is controlled using a button on the side of the SmartBand Talk, which lets you cycle through the app extensions connected to the phone. Through aggressively tapping the screen or the bit of strap nearest the display you can activate which app is displayed. This feels a bit weird at first, and you'll never stop looking odd whit doing it.
The SmartBand Apps
The main SmartBand app is free to download from GooglePlay and is linked to another Sony app, Lifelog – more on that shortly.
The SmartBand Talk app is pretty and very straightforward to use. It has swipable tabs that show the status of your SmartBand Talk, including battery level. It will also let you change things like your display orientation and colour (light on dark or dark on light? THE POSSIBILITIES!), as well as locate your SmartBand Talk by making it ring and vibrate.
A third tab lets you organise the extension apps linked to your Band. These are: Voice Control, Voice Note and Audio Recorder, recommended by Sony; and Find Phone, Calendar, Weather, Action Camera, Smart Badge, Smart Control, Smart Camera and World Clock.
Here's a little lowdown of what each one does:
Voice Control – the same sort of voice activation that you have on your phone, but accessible from your wrist. Commands such as 'Call Jade' and 'What is the weather in Kobe, Japan?' work well – that is, until they don't. I actually managed to break this app, but more on that later…
Voice Note – lets you record voice notes that you can store on your SmartBand Talk or upload to Evernote
Audio Recorder – lets you record and play back audio
Find Phone – arguably the most practical function, particularly if you're me, it helps you locate your phone by making it buzz and emit an infuriating ringing sound
Calendar – transfers your calendar alerts to your SmartBand Talk, giving you the choice to use all calendars linked to your phone or only specific ones (email calendars included)
Weather – set the location of your hometown and it'll show you mostly accurate predictions of the weather for the coming four days. Mine may be less accurate as the only option for 'Cambridge, UK' lands you somewhere in Gloucestershire, but hey-ho
Smart Badge – lets you create a profile card for yourself with any info your want accessible to others plus an image
Smart Control – can detect the battery level of your phone, switch audio modes and activate the speaker remotely, as well as allowing the SmartBand Talk to toggle your phone's cellular radio or
wi-fi
Smart Camera – this is one of the ones that looks utterly useless on the outset, but actually proves itself in time. You can remotely take a photo or record a video on your phone. This worked a little less well on my phone since the Samsung S4 Zoom needs to disgorge a telescopic lens before any photo taking can take place, but all the same I found it handy just two days after looking at the app and saying 'what is the point of this thing?'
Action Camera – "with this app, you can control the shutter of your Action Cam and other cameras from Sony from a distance of up to 30 feet/10 metres", says GooglePlay. Similar to the 'Smart Camera' app
World Clock – choose a location and the SmartBand Talk will keep abreast of its local time. The only limitation is that you can only pick one place
The Lifelog app is a nice extra, providing that you aren't a regular on the everyone-is-recording-everything-I-do suspicion train.
Because it records everything you do. Your steps, your photos, the amount of time you spend on your phone's internet browser or Facebook – all the things.
It then plots these along a colourful timeline so that you can see how the data changes from day to day.
It also lets you set targets for yourself in each area: for example, you can up the default pedometer target from 7,500 a day to 10,000, and the little gauge on the front of the SmartBand Talk will reflect your progress through the day in relation to this.
And, speaking of the pedometer, I have seldom felt so inactive and lazy as the evening following my first full day of wearing the SmartBand Talk, when I discovered that I had only done around 4,000 steps all day.
The next day wasn't much better.
The day after that I felt a bit more determined to up the score and so I did, but only by 2,000.
It wasn't until the fourth day of the trial that I made a conscious decision to go for a walk around town at lunchtime and another to the food shop in the evening. I finally beat the machine! And this is a good thing: the exercise incentive works.
The SmartBand Talk also records how much time you spend asleep.
This function falls short of the others for two reasons: 1) it is not very comfortable to sleep with it on – it's alright at first, but then you wake up at 2:00am with a sweaty wrist and an uncomfortable chaffing (also on the wrist); and 2) it seemed to think that I had slept for four minutes when I was at work one day, and on that occasion no sleep-at-work had been had. This latter point only occurred the once though, despite hours of near-motionless evening telly watching, so that's not so bad.
Lots of Buzzing
The first time I appreciated the notification function was when I was expecting an email to my Gmail account while at work, meaning that I couldn't keep checking it.
The purring of the Talk alerted me to every incoming message and I was able to dismiss the irrelevant ones a glance without having to unlock my phone and check it every time it buzzed.
The little screen only shows the sender of the message, the subject and the first line or so of the content, but it's enough to know whether it's worth checking it. And that is hella convenient.
I did manage to break one of the apps for it.
Of course I did; I break everything. The Voice Control app stopped working after I successfully answered and conducted a pleasant 10-minute conversation with my mum (no easy feat, I assure you).
The sound during the convo was excellent – less grizzly than the speakerphone on my Samsung S4 Zoom – and Mother said that she could hear me very clearly, better so than at other times when I've used a speakerphone.
It was also really convenient as I was able to potter about while chatting with no interruption to the signal or pickup.
Frankly, I was unsure how seriously useful I would find the 'talk' function on the band until this point, and it turned out to be super convenient.
My mum had been badgering me to phone my brother to see how he's getting on (he has this big exam coming up) so, after I hung up, I buttoned over to the Voice Control app to call him. The app gave its usual 'speak now' and welcoming bleep, but this was immediately followed by a negative 'nuh-uh' sort of tone and the screen displayed the words 'check phone' along with a miniature diagram of a phone (I assume this was in case the bleeps had confused me).
Upon unlocking my phone, Chrome booted itself and took me to the app's help page, which is a really useful trick.
Unfortunately, the site (not even the FAQ section) could shed any light on my problem so I proceeded to switch everything off and on (again nothing) and fully charge the lot (still nothing). I uninstalled the Voice Control extension and then tried to reinstall, but it wouldn't let me do this as the remnants of the last installation must still have been knocking about in there somewhere, making it think that it was already installed.
Wiping all of the held data and effectively reinstalling the SmartBand Talk app completely let me reinstall the voice control function, but it still refused to work. I did contact Sony over this and was told that, if a software issue like this one had occurred with a customer, Sony would try to fix the problem over the phone.
The SmartBand Talk is also waterproof to 1.5 metres, so I thought I'd test this by taking it into the bath with me.
While this felt like utter madness, I submerged the device underwater repeatedly and it came out the other side completely unscathed and functioning.
Scuffed watch
One thing that I was a little surprised about was how scuffed the display got after 10 days of wear.
I often wear long sleeves that cover the device and about the most physically strenuous activity I do most days is walking down the two streets to my office. I wore it to bed briefly and only on a couple of occasions, but that's not a particularly scrapey place. Also I'm normally very careful with my devices (and books and pencils, borrowers be warned), so there are few reasons for the scuff marks.
Very odd indeed.
I'm not normally one for screen protectors, but perhaps sticking one on the SmartBand Talk is not a bad idea – I've seen (but not used) one from Skinomi on Amazon, so they do exist.
Handy arm candy
Overall, the SmartBand Talk SWR30 is a gadget of convenience and, for the most part, it works.
While the app extensions available from the SmartBand Talk SWR30 app seem a little extraneous at first, here's what I found: all those little apps and functions that at first make you think 'why has anyone bothered to do this' end up demonstrating their usefulness, showing up in the nick of time like a tiny, wrist-bound hero.
It does motivate you to walk more, and brings to your attention how much time you spend online or on Facebook using your phone.
The verdict
Do you need this product? No. Does anybody? Probably not.
Is it fun to have? Most certainly.
As I said at the start, the SmartBand Talk SWR30 is pure wearable indulgence. The little buzz you get every time you receive a text or an email is not only convenient but it makes you feel involved and up to speed.
It's a shame that it doesn't have a heart monitor or an altimeter, and for me the price (£105 on Amazon) is a little bit steep, but generally it's a useful little gadget. The SmartBand Talk SWR30 is a 'cool' thing, if that doesn't put you off, and I for one really like it.
Features
E-ink display, remains readable in daylight
Curved screen, 320 x 320 pixels
Battery life: up to 3 days, or 1 hour talktime
Controls: function button, volume rocker, 'tap' sensitivity; phone app used to change settings
Available in black and white with a choice of colourful straps
Waterproof to 1.5 metres
More specs available on the SmartBand Talk SWR30 Sony page
Cost: £105 on Amazon