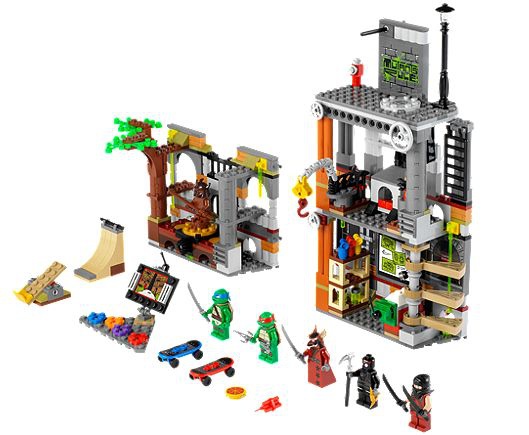 You close your web browser for one minute, and there's a whole new Lego collection out! And – as if it could be anything else – this one's Cowabunga!
Teenage Mutant Ninja Turtles took a while to get to Britain first time round. However, I remember loving the turtley awesome ninja fighting. With this new Lego set, I can see kids thinking it's the best thing since Ninjago. When i visit schools and do illustrator workshops, ninjas pop up time and time again. Children still love them, and the Turtles are still cool.
And they make for brilliant Lego toys. This set is based on the turtles' subterranean layer, and comes with Raphael, Splinter, Leonardo and two baddies. There are plenty of details and gadgets, and the minifigs even get little Lego pizzas to eat and skateboards to ride.
The set also has a number of cool moving parts, and it's great fun battling Leonardo with his swords against the swivelling training samurai figure.
Top marks Lego, and extra points for the nice cartoony style. I love it.