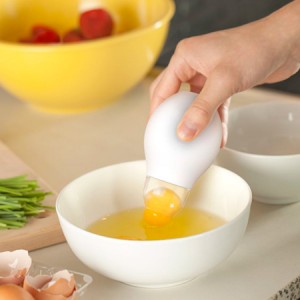 If there's one thing that's almost universal in each kitchen, it's the humble egg. Eggs are versatile and pretty much always on the menu, whether for breakfast, on a quick bap for lunch or as an ingredient in a luxurious dinner. But yeah. They're a messy bunch. Separating eggs isn't the easiest of jobs, I'm sure you'll agree. And that's where this gadget comes in…
The Quirky Pluck Egg Yolk Separator, from the good people at Prezzybox, is just the thing you need when you can't figure out just how to separate an egg without all of the mess that comes with it. Using your hands? Bah! A spill and tip job with the egg shells? None of that!
Place your separator over an already cracked egg, squeeze, and there you go! Your yolk has been sucked into the yolk chamber. All you have to do is take it to wherever you want your yolk, squeeze it again, and bingo! You've got yourself a successfully separated egg, with none of the messy business!
If you want to get your hands on one of these, get thee to Prezzybox today! Only £12.95 a piece!