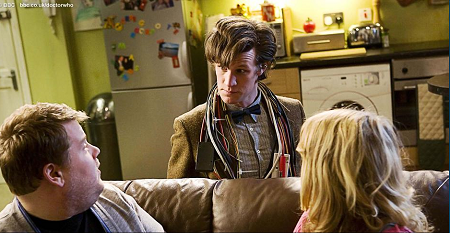 It's sitcom time in Doctor Who this week, as the man in tweed moves into a flatshare with James Corden, plays a bit of football and embarrasses himself whilst trying to fit in with the humans. For those who watched Third Rock From The Sun or Mork & Mindy, this may seem eerily familiar.
Still, this is relatively uncharted territory for Time Lords. David Tennant went undercover as a teacher a few years back, but it wasn't done with the same spirit of comedy. No open weeping or doomed romance this time, it's mostly about humourous cultural mix-ups and comical unrequited love.
And, yes, there's a fat bloke in it. James Corden has become a figure of national irritation lately, through an unfunny sketch show and sheer over-exposure, but I saw nothing wrong with his showing as the Doctor's confused flatmate. I imagine most were worried he would gurn, over-act and possibly get his belly out, but I think he was quite restrained and sweet. So, for the second week running, I don't get to tar and feather an obvious target. Damn.
In fact, not only does Corden keep his gut to himself, he's out-done in the male nudity stakes by one Matthew Smith, who undertakes a PG-rated shower scene. This will have pleased at least some of the fangirl contingent, although others may have been quietly wishing David Tennant had stayed long enough to do this one.
In fact, this episode is a good showcase for Smith's gangly, awkward Doctor. I don't think it would have worked quite as well with the Tenth, he always seemed better at blending in. Amy Pond is somewhat sidelined, but does get good lines when she appears, not to mention a big cliffhanging moment at the end.
Much like last week, the alien threat feels a little side-lined, as writer Gareth Roberts is clearly more interested in the Doctor's (admittedly entertaining) earthbound exploits. And if I'd been in a bad mood when watching, I'd probably have rolled my eyes at the very predictable "love conquers all" climax, but at least they didn't break out the sob-rock this time.
Was it a little slight? Definitely, but as a light-comedy episode, I think it did everything it set out to do. I'll certainly re-watch it long before I do that thing with the Silurians. And for those who demand massive, universe-threatening drama, the two-part finale is a-coming…
More Doctor Who on Dork Adore | More TV on Dork Adore
Doctor Who Series 5, Vol 1 is out now on DVD
Buy from Amazon | Buy from Play.com