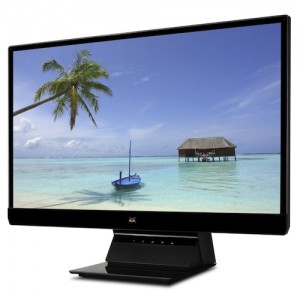 It's time to upgrade my monitor. That's the conclusion I've come to after spending a few days with ViewSonic's latest LED display.
The ViewSonic VX LED IPS models come in 23-inch and 27-inch monitor sizes with an ultra-thin bezel designed to make the screen appear frameless.
I took a look at the 23-inch model. It was easy to set up on my desk thanks to a solid monitor stand (no VESA Mount though, unfortunately). You can't adjust the height, which meant I had to put mine on the black box my current monitor sits on.
It certainly lived up to its frame-free promises, with a smooth screen face and touch buttons.
Once I'd turned the brightness down and fiddled with the colour settings, the picture quality was so much better than my old ViewSonic monitor that I felt quite emotional when it came time to return it. Compared to the woolly images conjured up by my old display, the VX model produced a crisp picture with a very wide viewing angle (ViewSonic tells me its 178 degrees).
Hardcore gamers will no doubt sniff at the 7ms response time, but that's because their advanced eyeballs can see things mine can't. I found the full HD 1080p resolution and 30,000,000:1  contrast ratio produced clear pictures that made creating Excel documents more enjoyable – and that's all you can ask for when it comes to creating Excel documents.
Audio quality was good – far better than my laptop but not as good as a full speaker set up.
Being a bit of an eco-worrier and a nerdish lover of anything using LEDs, I loved the LED backlighting and energy-saving features such as Eco mode that lets you change screen brightness and energy consumption. Thankfully, it didn't just sit there on standby sapping energy.  ViewSonic claims that "with eco-design, total cost of ownership can be reduced up to 40% while extending product life cycle" [sic]. I think translates as "it costs less to run than a normal monitor and lasts longer thanks to the LED bulbs".
A design for life?
My only complaint about this monitor was that it isn't quite as attractive as it wants to be. Although the frameless design is a neat conceit, the monitor and its slightly lumpen stand are business-like rather than beautiful. It's a stylish enough monitor, but it's not likely to thrill Jonathan Ive fans.
Despite that tiny quibble, the VX models are still better looking than most other computer monitors on the market. The pricing is about right for this type of LED monitor, making the VX displays well worth considering. I'd happily make space for one on my desk.
ViewSonic's VX2370Smh-LED 23-inch (RRP £110 excluding VAT) and VX2770Smh-LED 27-inch (RRP £199, excluding VAT)
Available from: