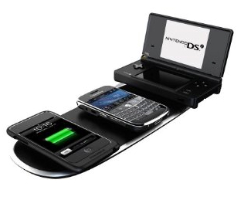 Loose cables are the bane of my working life. Between my phone, netbook, Nintendo DS and iPod, I've got wires all over the place.
Even with an extension lead, I'm still using all the available plugs. So how can I reduce the amount of cable clutter in my room?
The designers at Powermat think they've got the solution, and they've sent one over for me to try out.
The Powermat Home & Office edition is a hoverboard- shaped charging mat for a multitude of devices. The mat connects to the main with one cable….and that's all the cables you'll need.
To charge your gadgets, you click the phone/iPod/Nintendo DS into a receiver, and place it on the mat. Then with a joyful little beep, it starts to charge at the same speed as if you'd plugged it straight into a normal charger.
The benefits of this device are varied, including:
Space saving: You can charge up to four devices at once (with the extra USB port) so you're not tripping over a web of cables.
Easy to use: Once you've clicked the receiver on, you just need to place the device on the mat and it's charging. Job done.
However, it loses points for
🙁 Additional receivers: The mat doesn't come with any basic receivers, so you'll need to order one for each device you want to charge separately. And they're not cheap at around £30 per receiver.
🙁 You've still got clutter: Unless you want to walk around with the receivers clipped to your gadget all day, you're still going to have to store them somewhere. So you're replacing wires with chunks of plastic.
Conclusion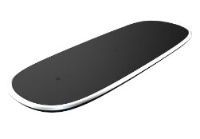 For the ultra tidy gadget queen, this is a tempting product. Stylish, compact and convenient, it's a clever gadget. It's worth remembering though that you're effectively paying around £70 for the mat, and an extra £30 per receiver to simple save you a little space and mess.
You can buy the Powermat from Amazon for £67.80. You can also get a package deal of the Powermat, iPhone 3G receiver and Powercube for £131.85.