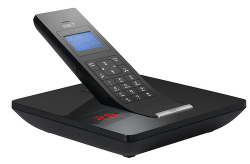 Who actually uses cordless home phones these days, aside from the elderly and the technophobic?
Mobile phones may have replaced much of the need for a home phone, but this home basic still has its benefits. For a start, the battery tends to last longer, you don't need to worry about lost signal, and (as the BT advert rightly points out) you're more likely to focus on the conversation at home then in the pub.
Models like the iDect C51 Twin Digital Cordless Telephone on the right (£64.99 from Amazon) combine style with functionality.  The portable handset offers the advantages of a mobile phone, with a sleek design and a comfortable curve to the base.
Need a landline update? Here are a few more options.
MagicBox Toque DECT with Answering Machine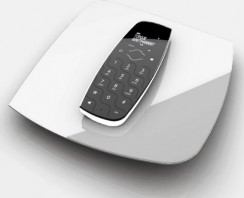 MagicBox has some really lovely designs, and several of them mirror the contemporary black designs of the iDect.
The MagicBox Toque DECT with Answering Machine (£59.99, Cordless-phones) has been designed specifically with home décor in mind, rather than the practicality of an office. Glossy and minimalistic, it wouldn't look out of place in the pages of a lifestyle magazine
The charging system is  similar to that of the Powermat, where you simply plop it into the dish, and it recharges.
Siemens Gigaset SL565 Bluetooth® Cordless Phone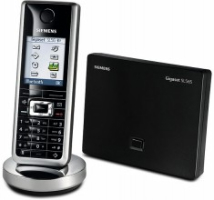 This Siemens Gigaset SL65 (£89.99, cordless-phones) might not have the high-tech appearance of the previous two cordless phones, but it makes up for it in features.
The Bluetooth element allows you to go hands-free at home, and you can also send and receive SMS messages. It uses up 60% less energy then most other cordless phones, which should appeal to the eco-friendly amongst us.
Emerging Terminator-style from the compact gloss base, the Philips ID937 has a surprisingly soft touch for such a solid looking phone.
Highlights of this handset include a sim-card copying facility and XHD sound. (From Amazon; £69.99 from Cordless-Phones).