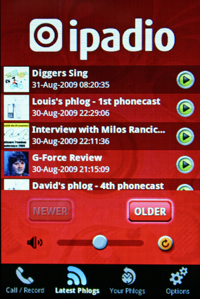 Not content with making us more efficient at work and giving us the best tools for getting things done at home Darika Ahrens,  high chieftain of social media, has gathered together all the best tools for broadcasting yourself all over the web.
We've come a long way since lonelygirl15 took to her webcam and broadcast herself to the world. Now, there are even more tools available to (borrowing a phrase from YouTube) broadcast yourself.
Here are some great tools that are out there and free right now.
ipadio
AudioBoo brought us phone-to-audio blogging (aka phlogging) and ipadio takes it one step further, live casting audio from your phone and via your blog, Facebook or Twitter.
This is one to watch.
Tip: Don't get stung by freephone charges when calling from your mobile phone. This is one part of ipadio which should be improved by recognising most people will be blogging/phlogging from their smartphone device.
Slidecasting with Slideshare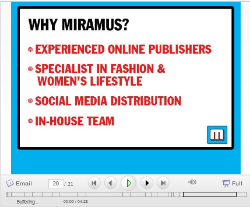 By far the easiest way to create an online video if you don't have a lot of technical knowledge and/or can't be bothered with video editing software.
Once you've got a Slideshare account you just upload your slide presentation (PowerPoint, OpenOffice, and Apple Keynote are all supported) then, once loaded, click "Make Slidecast" and upload any MP3 audio file (most laptops have built in microphones these days).
A super simple editing window appears where you just drag audio markers to match individual slides. This seems quite business-focused but you could play around with uploading holiday photos or even making your own video stories for children like one of my clever friends does.
Slidecast widgets share your creations to Facebook & LinkedIn.
Tip: Traditional video rules still apply here, keeping it short and sweet is the key to keeping viewers watching. Also, once you've uploaded the audio file there is no facility to edit audio so you either have to record it in one take OR edit the audio in some audio software first.
Jing for Screencasting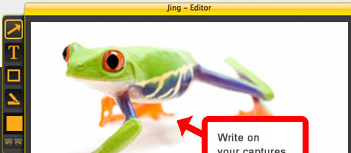 Camtasia is by far one of the most recommended screencasting software around but here's a sneaky trick – creators TechSmith also have free service Jing for all your screencasting needs.
Some cool features include the useful screencast.com URL allowing you to capture a screenshot, edit it down, and quickly post the link into an IM conversation or email ("No mum click on THIS tab!")
Those who upgrade to the Pro version can also capture video from webcams so you can include video of yourself, or others, talking to camera.
Tip: If you run a software- or technology-based company this is a must-have for the now commonplace video demos most sites have on their homepage and as part of their Help resources.
SoundCloud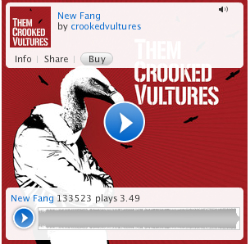 For wannabe musicians or even established music pros SoundCloud is for storing and distributing music and I think/hope will drive a nail in the coffin of those hideous band promo pages on MySpace which, let's face it, were mainly used for their music player more than any real fan engagement.
Why? The whole look and feel of SoundCloud is polished and functional. It gives you one centralised point to host your music and then allows it to be streamed across the web. There's also a customisable widget you can embed pretty much anywhere.
Analytics help you track where it's being played and provide interactive stats and comments. If you make or download music this is definitely something you should check it out.
Tip: Don't just think music, SoundCloud is excellent for the budding podcaster too.