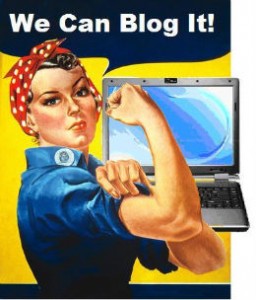 If you spend a lot of time blogging you'll probably have developed all kinds of shortcuts and labour-saving techniques to get those posts out in a timely fashion. Fiddling around with outbound links and photo editing can take up time that could be better spent reading Top 5 lists on the internet.
Which is why I've combined blogging, shortcuts and Top 5s to come up with my ultimate list of must-have Firefox Addons for bloggers. Hopefully, it won't cause the internet to topple over in sheer wonderment.
If I've missed any out, please do share them with me so that I can write even more of the internet.
1. Text Formatting Toolbar
I hate having loads of applications open, and Word is a rubbish text editor for bloggers thanks to all the Span tags it inserts willy nilly. Write Monkey is a personal favourite when it comes to getting column written to deadline, and good old Notepad does the job if you just want to get some words down. But the Toolbar Composer that comes with the Text Formatting add on is brilliant. it's basically the same as Notepad in that it looks plain and simple and doesn't eat up loads of processing power, but it has the added benefit of HTML buttons that let you insert code so you can just paste the whole thing into your blog.
Obviously, some people are happy just to write straight into a blog post, but I find it cramped. Plus, I prefer to have a separate page to write on that's away from the distraction of the browser itself. The fact that this pops up a small text editing box makes it a brilliant blogging tool.
2. Web Developer Toolbar
This is great if you're not a coder and you need help when it comes to the inner-workings of your website. Press a button and it will tell you what bits of CSS refer to which particular points of your website. It can measure out the size of your masthead or sidebars for you so you know what size you're working to, and it can give you information about all your image URLs and their pixel sizes. In fact, it does too many clever things to list here and I'm still discovering them all myself.
I really recommend it if your coder credentials aren't up to scratch.
3. British Dictionary
There should probably be some kind of law against not having this installed on your browser if you write online. I've spent many fruitless hours of my life insisting anyone who works for me installs it, only to edit posts littered with stupid errors. It highlights your spelling mistakes as you type so you can right click on the word and select the correct spelling. I am not a gifted speller, and there's no way I'd want to type solo without a dictionary backup acting as wing man.
That analogy didn't really work, but you know what I mean. If you write, you should be using it.
4. Pixlr Editor
Pixlr is a free alternative to Photoshop, which works in your browser and makes photo editing a pretty painless affair. What's good about this tool is that you can right click on any image and it will upload it to Pixlr so you can edit it straight away. And if you need to take a screen grab, you can select the entire window or simply highlight the bit you want. Click capture and the image opens in a new tab via Pixlr Editor.
I've only recently started to use Pixlr and it's saving me a lot of time. Not only does it mean I don't have to upset my laptop with another application, I also don't have to download images to my computer and then open them in editing software.
5. Live Page Rank
Google Page Ranks are – as we all know – divined by a group of robed people chanting and reading fresh entrails in the Google storeroom. There's no point getting all hung up on Google rankings, but just having one (however low it is) is a sign that Google has deemed your site worthy of notice. This little add on provides live PR updates and sits quietly at the bottom of your browser.
Flickr Image: Mike Licht