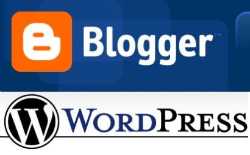 When you're new to blogging, the choices in blogging platform can be utterly confusing. Do you start out with a Tumblr blog, or post away on Posterous? Can you blog on more than one platform? Is WordPress really king?
The thing is, there's no definitive answer and it's different for everyone. As long as you're able to update your blog(s) regularly with good-quality posts, where you do it falls down to personal preference.
Saying that, it's worth giving you a few of the pros and cons for the two big free blogging platforms, WordPress and Blogger. While WordPress fans will undoubtedly point out the various customisation options and modern templates, the improvements Blogger has recently undertaken really up the competition.
So, here's Blogger vs. WordPress!
Blogger
Blogger is the platform offered up by Google. It's renowned for being simple to use, with a variety of customisable templates available.  Great for blogging virgins who fear the scary world of domains.
Wins points for
Simplicity. For a first-time blogger it's easy to create a blog using the customisable templates, and adding posts requires very little html know-how.
Gadgets. Expanding selection of HTML gadgets to pop into the template, both official and unofficial.
Blogger in Draft currently has Google Analytics built in and they're working on a decent comment moderation system. Hopefully we should see this in the standard Blogger soon.
Layout. Organising the layout is a dream with the new template designer, allowing you to increase or decrease the margin size, move the gadgets around and make quick adjustments to the colour scheme and font style without touching the HTML.
Hosting. Blogger is hosted for you, so you don't need to worry about databases and crashes.
Loses points for
🙁 SEO. Or rather, the lack of options to edit and improve your SEO. No heading options, tagging opportunities (other than the labels section) and nowhere to add a Google friendly excerpt.
🙁 Appearance. Templates are constantly improving and many popular WordPress templates have been converted for Blogger. But they just never seem to look as swish on Blogger.
🙁 HTML editing. This usually involves scrolling through one huge document, unlike the simple divided chunks on WordPress. Use of Ctrl + F is essential.
WordPress
WordPress is the choice for those who want to host their blog on their own domain, and allows you to implement professional-looking templates, and customise them with an assortment of plugins and CSS know-how. FYI, Dork Adore is WordPress-based and proud!
Wins points for
Customisation. Once you've got your head around the coding, the possibilities are endless for pimpin' up your page. There are thousands of plugins to choose from too,
SEO friendly. The All-In-One SEO pack, excerpt section, ability to insert thumbnails and flexibility with formatting helps WordPress blogs to be very Google friendly indeed.
Swanky WordPress templates. They're just better. Built-in sliders (check out ours on the home page) beautiful effects and more uploading options means your blog will look professional enough to rival the work of a seasoned web designer.
Loses points for
🙁 Being HTML heavy. It's a little overwhelming when it comes to changing the layout and location of the widgets.
🙁 Being self-hosted, so you'll need to buy a domain and work through all the diverting bits and pieces. You'll also get the joy of watching your site occasionally crash. Which means sitting on the phone or waiting for an email from your provider.
🙁 WordPress.com.If you end up going for the hosted WordPress option rather than self-hosted, your choice of templates is really limited.
So, what's *your* favourite blogging platform?