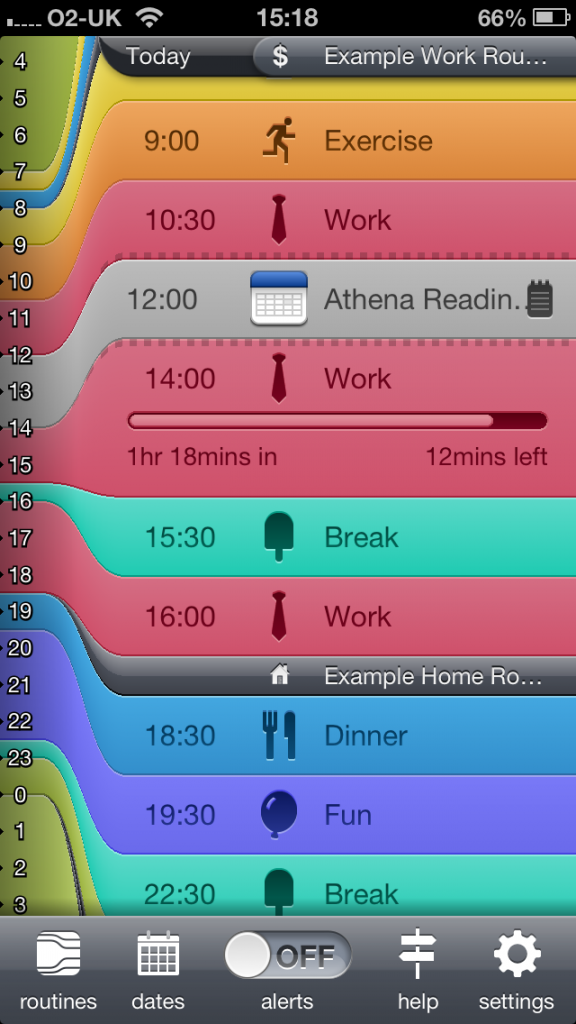 Remember that delicious 2013 enthusiasm and optimism a lot of us had a couple of weeks ago? Glorious, wasn't it?
The trouble is, life can get in the way of fulfilling all those resolutions and goals.
Chances are the diet has hit a few road bumps, your aim to hit the gym three times a week has been amended to three times a month, and your plans to be super-organised have doubled your To Do list without actually contributing any order to your life.
Getting organised was one of my goals this year – in both my personal life and when running my freelance business. So far, I've been struggling with any kind of structure. So I did what any normal (geeky) person would do, and searched the App Store for a solution.
I discovered Daily Routine.
Organise your life with Daily Routine
Daily Routine is an app that does something I've been seeking for quite a long time. It creates a daily routine planner, synched with your calendar, complete with time slots and colour coding (because what kind of organisational tool doesn't go mental with colour coding?).
You can add in slots for everything – from work and breaks to meals, commutes and fun – all of which can be renamed to fit in with your life. The app can be set to alert you when you need to move on to the next task, which is great for those of us who often forget to take a break or finish work on time.
There are a dozen other features I love in this app. I can add notes to each slot and create tasks for certain days (great for things like Monday email catch ups and Friday afternoon admin sessions). The Daily Routine is split into sections too, covering Home, Weekend and Work, so you can create specific tasks to fit in with different places or times. You can also add your own; I'm working on Routines for cleaning the house and training sessions.
If you're the kind of person who does a different thing each day, this app probably isn't for you. But if you're the kind of person who craves routine, and needs a nudge to keep on track occasionally, Daily Routine is worth a download. It's £1.99 from the App Store, and it's also available on the iPad.
Check out all our App Reviews.