I have been trying out the portable Mikey Digital iPhone, iPod and iPad microphone from Blue Microphones.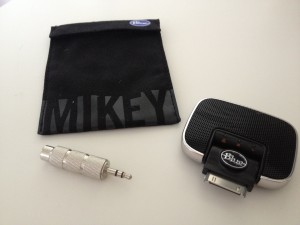 What is the Mikey Digital?
Mikey Digital (RRP £99.99) is a handy little device that records CD quality sound on your iPhone, iPod touch or iPad sound clips and video.
The Mikey Digital is highly portable, fitting easily into a bag or even your pocket. It comes with a cute little pouch case to protect it too.
Available from:
Apple friendly microphone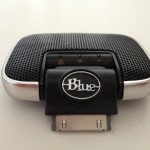 The Mikey Digital is a good-looking device! it matches the smooth lines of the Apple products that it is made to work with well.
Sadly, it does feel a little "plasticky" in the hand. This is inevitable because the products I am connecting it to are famously sturdy, and built from metal and glass. Compared to the Apple devices it connects to, it just does not feel very strong. You can't help feeling that too many twists of the rotatable mic will end with a snap.
With a recommended retail price just shy of £100 I would expect the build to be of better quality.
Getting Connected
As you'd hope, the Mikey Digital iPad microphone is very easy to connect. Just plug it into the 30-pin dock connector of your device and open the sound or video camera app you want to use. I used the device with the Garage Band app which can be downloaded onto your iPhone iPod Touch or iPad.
It lights up to show that it is receiving sound, and you can manoeuvre the mic to improve sound pick-up.
There's a connector for a guitar (or other electric instrument) that plugs in to the  3.5mm headphone jack of the microphone to record guitar too.
So how does it sound?
It sounds good! I used the microphone whilst putting together a show that I was directing. Recording voice-overs for scenes and videos was easy as I was able to use my phone. Through the speakers in the theatre the sound was clear and sounded great.
It's worth noting that the iPhone 4S does have a pretty good microphone built in already, however. You can certainly tell the difference in quality between recordings taken straight on to my phone and those recorded with the Mikey Digital, but I am not entirely convinced that the increase in quality is justified in the pricing.
Examples of audio
The first recording is of my voice (cringe) taken with my iPhone 4S without using the Mikey Digital microphone. The second is recorded from the same distance, right after the first recording on the same phone but this time using the Mikey Digital.
You should be able to hear that the second recording is much cleaner and clearer. It is as good as a microphone of its size and portability really could be.
Guitar Connector for iPad
Not being particularly gifted musically, I handed over the testing of the guitar connection to my partner.
He was quite excited at the idea of being able to record directly on to his iPad and used the aforementioned Garage Band App. He connected his cable, the connector and the microphone pretty easily. However, it is worth mentioning that having a cable plugged in to a connector, plugged in to a microphone, plugged in to an iPad really does look like some kind of experimental accident waiting to happen.
Once connected, the device does record your guitar, but it doesn't sound great. The guitar sounds distorted on each setting and the sound is clipped. The guitar connector, while a good idea is actually pretty much useless.
If you do want to record your guitar using your iPhone, iPod or iPad you would be better buying a cable like the Amplitube iRig as it is much less expensive and actually sounds pretty good.
Mikey Digital: conclusion
A bit of a mixed review overall. The Mikey Digital is good; it is a pretty little mic that's easy to use. It is great to have higher quality recording wherever I am, but it feels a little over-priced at £99.99. For this price, I would expect a higher quality build and a bigger difference in recording quality. The guitar connector is a nice idea but it just is not very good at all. However, it is already down to £79.99 at Currys so it is getting more affordable.
A bigger issue is the fact that the Mikey Digital will not work with the new iPhone 5 or any future Apple products now thanks to the new charging ports. To continue using it, you'll need to buy a £25 adapter from Apple. It currently works with all current generations of iPad, iPhones 4 and 4S and the 4th generation iPod Touch if it has iOS6.
Blue Microphones Mikey Digital Available from: