So, the social media marvel that is Darika Ahrens already shared her tools for Getting Things Done in her Work. Now, it's time for her to tell us how to run our private lives more effectively as well.
BEST TOOLS FOR GETTING THINGS DONE…IN MY LIFE:
Gentle Alarm for waking up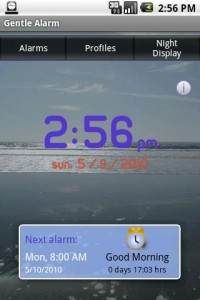 I wish I could wake up as ready to meet the world at 7am as a child is on Christmas Day but most mornings that's not the case.
After hearing loads about the Sleep Cycle iPhone app I went searching for an Android equivalent and found the Gentle Alarm which does a similar thing.
Basically, Gentle Alarm wakes you up gently by playing a pre-alarm which gets louder and louder over 30 minutes until it's at full alarm volume at your requested hour — by which time you'll be ready to calmly open your eyes  and go and switch it off.
I liked it so much I actually upgraded to the paid version making it my first Android app purchase. Best of all you don't have to go to bed with your phone on your mattress in some bizarre modern day take on the Princess & the Pea fairytale.
Tip: This app did have some problems conflicting with other operations running on the phone. Make sure you update to the latest version and maybe use your normal alarm for the first few days as a back-up just in case.
TripIt
Let me say first off that despite a brief dalliance with Virtual Tourist in the early noughties I have no interest in social networking around the theme of travel.
But TripIt does one really cool thing that makes me love it.
By simply forwarding your travel confirmation emails to the service it will automatically build your itinerary. Hotels, flights, car hire etc will all be collated into a complete travel overview and fill in handy details like a local map and what the temperature is in the place you're visiting.
Tip: Invite friends to edit your itinerary if you're sharing the responsibility for booking a holiday and send the URL to friends/family who might want details of where you'll be or are even expected to pick you up from the airport – TripIt pulls in real-time flight info.
ShopSavvy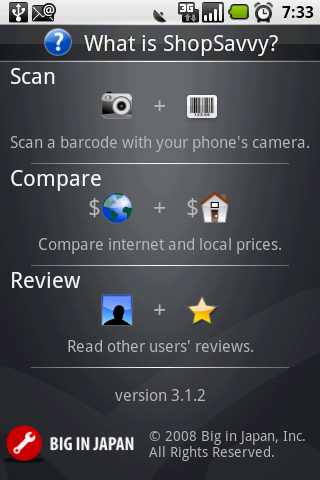 For some reason having to make a purchasing decision, even for something I've specifically gone to the shops to buy, sends me in to a state of paralysis. It's something to do with the parting of cash. I don't know why but there's always a voice in my head that says "Is that the best price? Could you buy it cheaper elsewhere?"
If time is money, I need to start calculating the amount of time I'm wasting on aborted shopping trips and days of online research before just buying something.
ShopSavvy is a barcode scanner which identifies a product then shows you best prices online or at local stockists. While I'm kinda freaked that it's the death knell for many retailers it means that I can choose to buy a DVD box-set I see on sale because it really is the cheapest one in town or click through and buy it online cheaper if I'm prepared to wait.
Darika Ahrens is a Social Media Consultant and Sales and Marketing Manager for Tempero. You can follow her on Twitter too.
Previously: Best tools for Getting Things Done. Pt I: Work
Have you got any more suggestions for tools to help you Get Stuff Done?