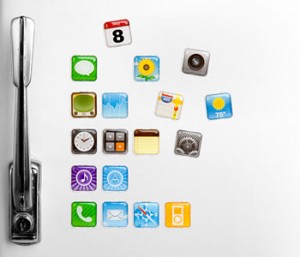 A little while ago, we did a piece on gorgeous looking fridges. The featured white goods really were aesthetically pleasing, but I think I've found just the thing to really ramp up the dork factor.
iPhone app magnets.
That's right, you can replicate the interface of your mobile onto the open space of your refrigerator.
Sure, it might get a little confusing when you return home after several Long Island iced teas intent on sharing your wittiest comments/drunk nonsense on Facebook, only to discover that repeatedly jabbing the Safari magnet doesn't actually work
But let's be honest, that's not such a bad thing.
Fancy grabbing them for your kitchen? They're from IWOOT for £9.99
(They'll go perfectly with your iPhone bedding)