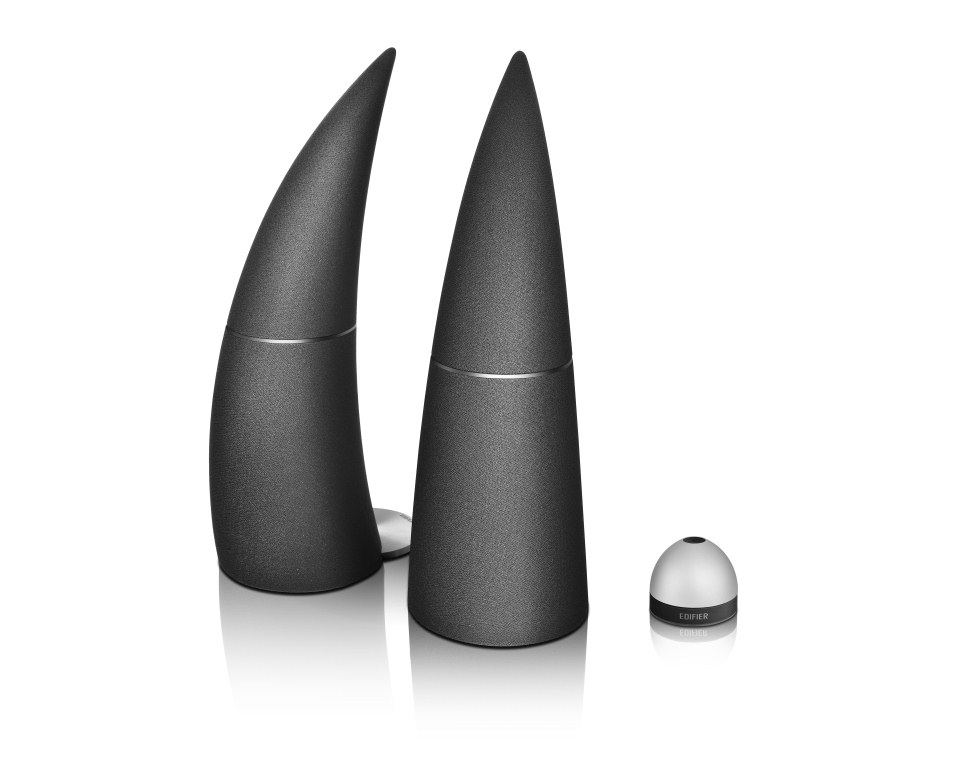 These Edifier Spinnaker bluetooth speakers are a delight to look at and listen to. Not only are they good-looking and stylish, they are the first set of speakers that can truly call themselves 'dock busters', because buying a dock for your smartphone just went out of date.
So if you've just got an iPhone5 and you're pondering how to share the music from it. Or you're trying to decide which dock to buy that has the right adaptor for your current phone – and your next one – look no further.
From box to play took minutes, mainly mucking around with cables to connect to a plug and each other.  The Bluetooth pairing process could not have been simpler. If you just have an iPod (without bluetooth) or another mp3 player you do have the option of using the 3.5mm jack or an optical digital input.
The key to liking these speakers is if you like the look of them. I do, but if you have feng shui issues, have a think.  If you have sound quality issues be assured these 15-inch stereo speakers have the punch you would expect for this (quite considerable) outlay.
Whatever you think about the look of these speakers they really do sound good with a bass driver angled towards the floor to give you the depth in the bass and separate tweeters directed towards you by the Spinnaker design shape.
I had just a few issues with bluetooth connectivity. On the odd occasion, when something like a pepper pot and a body get in the line of sight there was some drop out, but at several metres away (the range is 10m for bluetooth in the blurb) this is to be expected.
With design awards and a good-quality sound, these speakers can rightly call themselves 'dock busters'.
Pros
Good sound quality
Styling
Innovative remote control
Ease of set-up & use
Relative ease of portability
Lack of wires
Bluetooth flexibility
Cons
I would have preferred a longer cable between the speakers. But the newer models will have three-metre cables
Nothing else unless you haven't got the money.
It's worth noting that the bluetooth is dependent on the audio source that is being used to stream audio. Devices that have a low SBC  bit pool setting (like Nokia mobile phones) will produce less than desirable audio quality when being connected to the Spinnaker – however when using devices that have high SBC bit pool settings (like Apple devices and Blackberry phones), the audio quality and stream is clear.
The Spinnaker is available at SRP £249.99 inc from the Apple Online Store, Currys, and Amazon