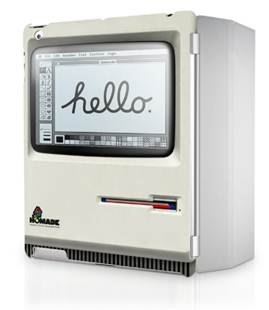 You've just received a beautiful new iPad for Christmas. It's sleek, ultra-skinny and just the right size for digital tapping on the go.
Ah, the wonders of living in an age where we don't have to lug around a ton of technology to check our emails!
So why would you ruin it with a giant Macintosh case? For the ironic, retro lulz. Obviously.
The Padintosh is the brainchild of Thumbs Up World. They've also bought us the 80s Retro iPhone case, which was presumably designed to ensure that you're the only person still doing Trigger Happy TV impressions in the 21st century.
While it might be too late to buy this as a Secret Santa for your practical joke-loving IT department, you will be able to buy it from Thumbs Up World from Q2 2012.
Just in time for next Christmas then.
What do you think? Are they taking the mac a bit?