I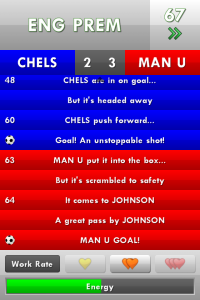 t's finally come, that time of year that all football fans hate: Summer.
Ok, so the Euros were a very welcome extension of the regular season, but now it's over and we face a few weeks nothing but boring commercial friendlies and transfer speculation which is contradicted on a daily basis … and Olympic football doesn't count before you correct me.
Thankfully salvation is here in the form of New Star Soccer (available on iOS and Android).
New Star Soccer Review
I'm going to start this review with a warning: New Star Soccer is addictive. Very addictive. So addictive in fact that I've been trying to write this review for well over a month. I'm not even exaggerating; I downloaded the game ages ago and have been trying to write this very piece you're now reading ever since.
The trouble is, every time I start to type I get the urge to play – "just one quick game, so it's fresh in my mind" – that's the logic anyway, and from that moment my innocent intentions are warped into hours of football fanaticism.
The premise
The game itself is a life-management "sim" that has you taking control of an individual player and guiding them through all the highs and lows of a career in professional football. Matches will be familiar with anyone that played a football management game in the 1990s, with the action described with text prompts. The major difference here is that when your player gets possession you actually play a mini-game to determine whether you pass or shoot – all played out with a wonderfully retro look that liberally borrows from the classic Sensible Soccer. Simple drag and touch controls dictate power and direction, and then loft and spin can be added after by touching the ball where you want to kick it.
It's a satisfying system and goes a long way to alleviate the feeling that winning and losing is totally out of your hands, which can often be the case with management games.
Mini mobile football games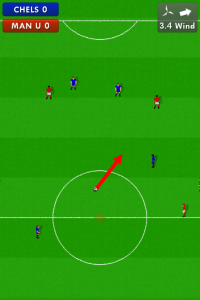 Additional mini games can be found in the training area. Completing these will increase your skills and help you find the back of the net when it comes to getting onto the pitch. It's a mechanic that works really well; you'll never get bored of picking out a team-mate with a 30-yard ball and seeing him smash it into the top corner, or personally drilling home an equaliser in the 89th minute.
Off the field life management is great fun too.
Playing well by completing passes, providing assists, and sticking the ball in the old onion bag will improve your relationship with your manager, your team, and your fans. Keeping all of these happy not only effects your overall happiness rating, but also dictates whether you're selected – and even how often you'll receive the ball in games.
As you rank up you can negotiate for bigger contracts, earning bigger bucks. This in turn attracts sponsors and women: relationships that also affect your happiness.
Contains traces of consumerism
Money doesn't also buy you love, it buys you things.
New Star Soccer has an entire treasure trove of stuff that you can buy, from push-bikes to mobile phones to your own private island. Buying stuff has a beneficial effect on your recovery level between matches too, so it's not just for show. If you haven't quite got the money to get that sports car you've always wanted, you can even go to the casino and gamble your hard earned away and run the risk of becoming a virtual Tony Adams.
The verdict
New Star Soccer juggles all of these balls brilliantly and it combines to make an engaging and very personal experience: your career really becomes YOUR career.
I began at Corby town, rejected big money moves to Derby County in order to repay my manager's faith in me and helped my team win promotion in my second season there. Then, at just 18 years old, Manchester United were interested in taking me on. This was a childhood dream come true. My home debut was against Man City of all teams, and I scored a winner in the dying seconds.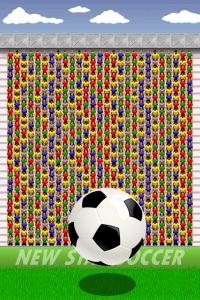 You can't write this stuff!
I've been at United for five years now and have built a trophy cabinet that even Ryan Giggs would envy. I've broken into the England set up, experienced the agony of a World Cup semi-final penalty defeat (to Australia!?), and the euphoria of success after winning the European Championship (just this morning in fact!).
Not many games give you these kinds of experiences, and they're rarely as fun to play.
If you own a phone and like football you should be playing this, there's really no excuse. The only reason I'm not now is that the guilt of procrastinating for almost two months has finally broken me.
New Star Soccer is available now on both iOS and Android. It is initially free but costs 69p (iOS) to expand after you've played ten matches (Android uses will pay £1.99), with additional in-game purchases optional.