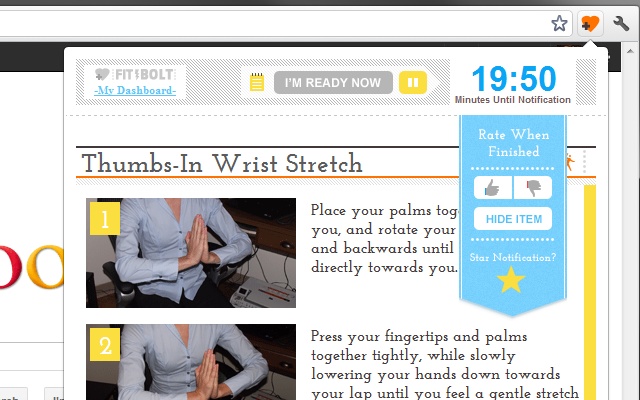 How much time do you spend each week sitting down? I tend to work at least 60-70 hours a week, and most of those hours are spent parked in front of my laptop.
I have The Fear that I'll end up like one of those floating blobs from Wall-E.
As the papers keep telling us, sitting down for long periods is bad for your health. It makes you fat, gives you bad posture and is bad for your eyes. It's only a matter of time before the Daily Mail suggests sitting down will give you cancer.
The general advice is to get away from your computer every half an hour. Easier said than done really though, isn't it? If you're focused on something, it's easy for time to whizz by.
Enter FitBolt!
It's a Chrome plugin, Firefox plugin, web application and desktop tool that alerts you every 30 minutes when you need to take a break. The free version then gives you a stretch or exercise that only take 30-60 seconds to do. Once you've completed it, you can tick it off and it'll update your stats.
There's also a paid version, which for a couple of quid a month offers wellness tips, posture suggestions, healthy reminders and nutritional information.
If you've got the Fitbit Activity Tracker, you can connect the two to give an all round view of your health and well-being. It won't replace regular exercise, but it'll help you work towards it.
It's a simple tool, but one I really like. Those little breaks give me energy, have reduced my wrist and back pain and I'm pretty sure those 30-second plank moves have given my core muscles a workout. The geek in me loves watching the stats stack up in the dashboard bar chart.
If you work in an office, it might be a little embarrassing to jump up and do 30 star jumps. That said, it might not be a bad initiative for employers to add this tool to their computer systems.
How do you make sure you get a break from your screen?