The Gemini Devices JoyTab may look like a direct iPad competitor at first, but you'll think twice once you see the price tag.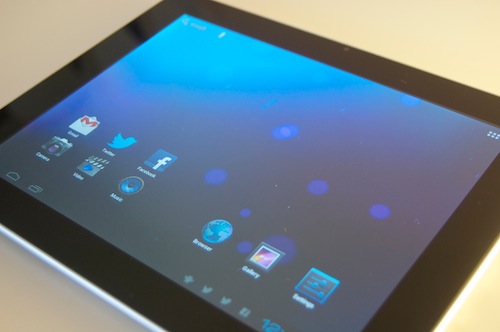 It's a nice size at 9.7 inches and has a sturdy build of plastic and glass. But it comes in slightly thicker and slightly heavier than the aluminium iPad. There's no creakiness that can sometimes come with plastic devices.
It enters the tablet market at a very reasonable £199. For which you can usually buy a tablet at around seven inches. Most 9-10 inch tablets running Android are priced around £350 and iPads start at £329.
Microsoft's slightly bigger Surface tablets start at £399.
Core Blimey!
The JoyTab is fast to load up thank to its dual core processor. It runs Android Ice Cream Sandwich, which is fairly easy to navigate and pleasant to use. There are no guarantees for future updates to Jellybean yet.
It boasts a display with IPS for improved viewing angles. It looks good, but isn't a patch on the iPad Retina Display I've become accustomed to.
The JoyTab comes with the usual Google apps (Maps, Calendar, Play Store) installed. Strangely, it didn't come with the Gmail app installed, and I was met with the vague message "Unfortunately, Gmail has stopped" when trying to launch the version available on the Play Store.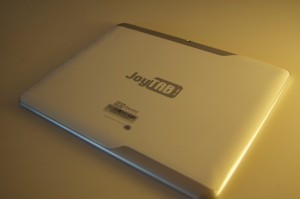 If you're appy and you know it
You can download apps for the tablet from the Play Store. Many of those are still not made for tablet use, which means although they work on the JoyTab, they are not as good looking or as user-friendly as they could be.
Should you want apps to look better, you may want to opt for a seven-inch tablet like the Nexus 7 or the seven-inch version of the JoyTab.
There are plenty of books and magazines available on the Play Store though, as well as the usual movies and music.
The battery life isn't bad; it should make it through a couple of days of average use.
The JoyTab has a camera on the back with a flash if you happen to be one of those people who takes photos with tablets. It also has a front-facing camera for video chatting over Skype.
The JoyTab has 16GB of memory and has a Micro SD card slot which allows up to 32GB of storage.
It has a HDMI port for connecting to your TV, but didn't come with a cable.
Overall, the JoyTab tablet is great for the price. If you want an iPad sized tablet for playing videos, using Skype, surfing the web and reading ebooks, with a budget friendly price tag, this is the tablet for you.