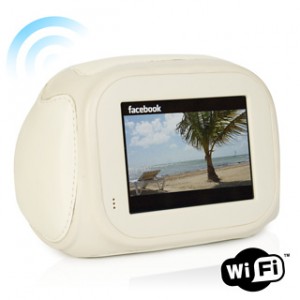 The Chumby is a prime example of a gadget I hate. It's frivolous, of limited use and it looks ridiculous. In short, it's an electricity thief. And yet, when the courier came to collect it to take it back to Firebox, I had to stop myself from clinging to his ankle and weeping.
Yes, it's ultimately pointless; yes, it seems to have been designed by someone working JJB Sports, and yes, it is a waste of the earth's precious resources, but goddammit I want one!
It's hard to explain the appeal of the Chumby. When it was sent to me for review I gave a weary sigh. It's a gadget designed to connect to your wi-fi — which means setting the thing up and answering questions about what sort of encryption system your WEP key uses — allowing you to keep up with things like Twitter, Facebook, the BBC News headlines and all manner of other stuff.
At this point you'd be forgiven for thinking "I already have a gadget that connects to my wi-fi and lets me check Twitter. It's called my laptop/iPhone/BlackBerry/all of the above". That's certainly what I was thinking as I grasped the squishy beige box in one hand and jabbed a WEP key into the small touchscreen with the other.
Then I plopped it down on the arm of the sofa and started to feed my baby. And that's when the Chumby started its charm offensive.
Every 30-45 seconds a different widget would flash up. Sometimes it would be a game like Pong or one that uses the motion sensor to let you tilt a ball round a course; sometimes it would be news headlines or silly facts; and other times it would be a quirky clock where the numbers are hidden somewhere in a photo.
I soon found myself staring at it. Then I picked it up. And then I started to fall in love.
If you decide you quite fancy playing one of the games it offers, you can sit and do that for as long as you like. But once you've finished, the widgets start rotating again, making it strangely compelling as you wait for the next one to appear.
The Chumby seems to have charmed quite a few people, which is why the community keep on making more and more widgets for you to load onto your beige box of nonsense.
Gains points for:
Simple interface
Fun games, news, clocks and other widgets
Being strangely lovable – it's like it emits pheremones or something.
Loses points for:
🙁 Not really having a purpose
🙁 Squidgy beigeness
🙁 Costing quite a lot of money for something that you don't actually need… or even want (until you get one).
So in spite of the fact that it's clearly a waste of resources, it doesn't actually solve any particular problem and it looks weird, I can't bring myself to give the Chumby a bad review. How can I when I want one?