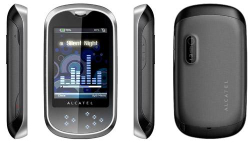 Browsing through our other reviews, you might be a little surprised to see an Alcatel phone review.
Traditionally, this brand of phone is seated at the low budget end of the market. Basic features for a basic price.
Now though, Alcatel are pushing themselves into the high tech market. The Alcatel OT-708 is billed as the cheapest touch screen phone currently available. With prices starting at £30, it's certainly pocket money in comparison to some of the other phones we've tested recently.
Does it pass the Dork test? Read on to find out.
Now, I wasn't expecting anything particularly amazing from this phone. I'm a firm believer that you tend to get what you pay for, and this lightweight phone wasn't exactly facing any high expectations. We're not looking at a rival to the iPhone or Android phones here.
What we are looking at is a great basic all rounder. The phone is equipped with a 1.3-megapixel camera, 2.4-inch touch screen (which is very easy to navigate around) a radio and music player. Not bad for £30. It comes with 5MB of memory, but you can always boost that with a memory card.
So, pros and cons.
Wins points for:
Price. At £30 (or free on some pay as you go schemes with Orange) it's very cheap for a touch screen. Or any phone really.
Easy to navigate, and the side-bar allows you to drag widgets onto the main screen.
Light and small enough to fit in the palm of your hand.
Loses points for:
Features. A little unfair really to mention this considering the price, but don't expect to have access to thousands of applications
Browser. With a 2.4-inch screen, anything more then a quick check of your e-mails will probably give you a headache.
No Wi-Fi or GPS. Also it's only available on Orange. Enough said.
Conclusion
Apple have nothing to worry about at the moment, but this little touch screen would make a great stocking filler for young teens and grandmothers alike.