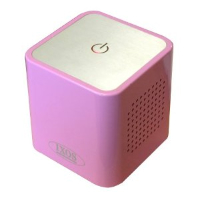 We've looked at speakers in the past for children, wireless speakers for those fed up of tripping over USB leads all the time, and the high tech BOSE SoundDock 10.
But what about those of us who like to combine our dorky love of gadgets with our preference for seriously pretty products?
Finding stylish yet functional speakers was a tougher challenge than I anticipated. Crawling through hundreds of Barbie, Hello Kitty and Hannah Montana speakers, I finally came across this IXOS Speaker Cube, Amazon, £4.25 which is definitely girly and budget friendly. Whilst you might not want to rely on it for a HD movie marathon, it's perfectly suitable for a spot of outdoors musical entertainment.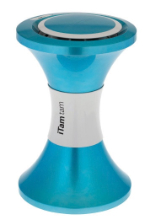 Moving away from the barbie pinks, I came across this Branex Design iTam Tam Blue (Madeindesign, £359) a product that allows you to play your tunes whilst taking a seat! I'm not entirely sure why you'd want to do that, though I guess the bass vibrations might have something to do with it…
It also charges your iPod and works with a remote controller. It comes in an assortment of colours, so you can get one of these speaker stools to suit your bedroom decorating scheme.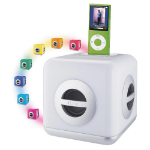 Another cube shaped speaker comes from Tesco with this iHome iH15WE LED Colour-Changing Stereo System, £59.97. Like a modernised version of a lava lamp, the iHome stereo system scrolls through a variety of colours at the touch of a button whilst playing your favourite tunes through the iPod docking station.
It also comes through adaptors for other MP3 players and an auxiliary line.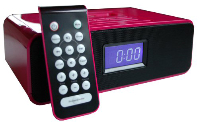 Finally, the Limit IP-CR100 Alarm Clock Radio Speaker and iPod docking station, Play, £17.99 is a multi-purpose option for morning wake up calls and late night dance tunes.
Search for pretty radios and you'll be inundated with Cath Kidston DAB radios, candy coloured PURE Digital radios and retro designs by Roberts. Speaker manufacturers, take note! We don't necessarily want bright pinks, gimmicks and cartoons splattered across them, just a bit of a style.
Missed your favourite? Let us know!