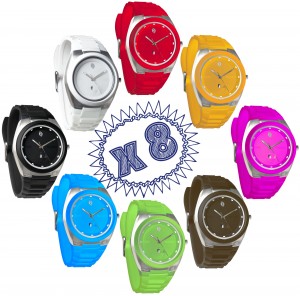 It seems only recently that "contactless" payment technology has received airtime, so I was surprised to discover it has been going for several years. It's just that retailers are only now getting into it.
The premise is simple, you get a card which you can top up online (it's not linked to a bank account so you can feel secure there) and you can then use that card to pay  where you see the contactless payment symbol. All you have to do is tap it on the reader.
My main worry with it was the ease of which I lose cards. Without a pin number I'd feel insecure about someone else getting hold of it and spending my hard earned cash, although spending limits do apply to avoid any disasters.
So I was excited when Dork Adore was offered the chance to try out the brand new contactless payment watches from watch 2 pay. It's a lot harder to lose something that's attached to your wrist and, like any self respecting geek, I love a good multifunctional gadget.
But how did I get on with this bit of hi-tech?
Fashionable contactless watches
The watch is a collaboration between Mastercard and watch manufacturer LAKS. It comes along with a prepaid card to use as well.
On a superficial level the watch looks great and not at all 'gimmicky', which was a worry for me (I am the fashion dork, after all). Even without the payment function I'd be more than happy to wear it on a daily basis and have had quite a few compliments on the style; fairly important is you're going to invest in one and use it.
Setting up the watch is very simple and it comes with easy to follow instructions; just pop the sim card into the side of the watch, register your card online in a few steps and you're off!
A lot of retailers are utilising contactless payment in their stores now. I decided to go to Pret-a-Manger to try out the watch by buying some lunch. In all honestly I felt very self-conscious as I waited for the cashier to add up my total, realising that asking to pay by using my watch was going to make me look a bit mad.
I needn't have worried.
Scanning the watch took a manner of seconds but the difficult part was trying to get out of the shop after the cashiers realised what I'd done. 'Are you going to fly off in your spaceship now?' one asked.
It really did feel like I was in the future, and I had to show it off to various staff and customers before I could leave the shop. Disregarding the delay this caused, with a queue of hungry workers behind me and a limited lunch break the benefits of paying in such a short amount of time are pretty obvious, and it was the same when I tried a different store a few days later. I'd guess that the total time for me to pay was a couple of seconds, with no scrabbling to find my purse or waiting for the card machine.
Watch the pennies
In short, this piece of technology is highly impressive and actually genuinely useful, something a lot of gadgets can't really claim. Not being linked to a bank account provides security, but it also allows you budget effectively since you can load it with only what you're allowed to spend.
For example, you could pop your lunch money for the week on there and avoid the pitfalls of getting a tenner a day out and somehow frittering away the rest!
The watch is available in eight colours £99 from watch2pay.co.uk.