For those occasions when hearing your baby scream just isn't quite good enough, Motorola brings you a range of Advanced Digital Baby Monitors so you can watch it holler too.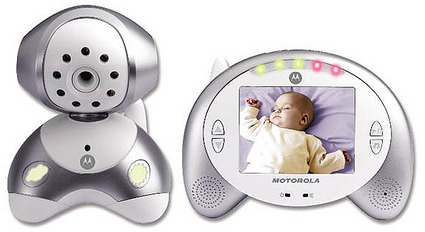 For many parents, a video monitor is overkill, but if you're especially nervous of something happening to the fruit of your loins, or if you just like the idea of a fancy bit of tech in the nursery, a video monitor is what you need.
The Motorola range has a definite whiff of Moto about it, with a quirky design that won't suit everyone. I'd rather have something a little less silver and plastic, but I guess a baby product can be forgiven for looking a little bit cutesy.
Aside from the video features, the monitor is actually fairly low on additional functions. There's a temperature monitor, a selection of polyphonic ringtones (what is it with baby monitors and Danny Boy?) and an intercom function so you can come over all Great Oz on your poor unsuspecting innocent. What you can't do is mute the volume, which means you'll have to listen to every squall, yip, snore and squeak. Possibly not ideal if you're trying to relax of an evening.
The video quality is very good even in low-level conditions, thanks to the night vision and long range digital signal. The model I reviewed was the top-of-the-range MBP35, which will set you back a not-insignificant £149.99, but cheaper models are available.
Gains points for
Decent-quality video even in low light
Very easy to use and set up
Providing peace of mind to parents with poorly children
Loses points for
🙁 Feeling a bit plastic considering the cost
🙁 Not having a mute button
🙁 Not having a charging dock, which means both units are wed to mains power (unless you want to pop in some batteries).
More details
MBP35 (£149.99) – Large screen video baby monitor
MBP30 (£99.99) – Video baby monitor
MBP15 (£59.99) – Two-way digital baby monitor with temperature monitor
MBP10 (£34.99) – Two-Way Digital baby monitor
(Also available on Baby Monitors Direct)