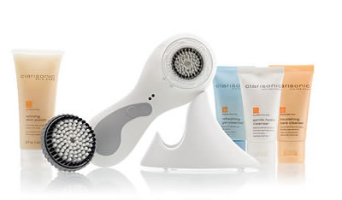 Reviewing the Neutrogena Wave recently, I realised that while I might not be a big fan of the product in question, I do like the concept.
I was approached to test the Clarisonic Plus Skin Care System & Spot Therapy Kit, which works on the face and body.
A little more interesting than the humble loofah, but how does it compare to the Wave?
The pack consists of the handheld device, charging station, two heads, and several products for the various cleansing options.
It's fairly simple to use, all you have to do is twist the suitable brush onto the handset, run it under water, and add the cleanser. You have three to choose from, depending on what your skin needs, and an exfoliator for the body attachment.
Using the brush is very soothing, with the vibrations relaxing your skin rather than being abrasive. The device comes with an internal timer similar to the Braun toothbrush, which lets you know how long to spend on each part of your face with an extra vibration.
For an hour after the treatment, my skin was red and blotchy. Not uncomfortable as such, but not particularly attractive either.
However, after the initial hour and a little bit of moisturising, the appearance of my skin had noticeable improved.  Smoother and brighter, I was really impressed! The results rival most facials I've had recently, and I even had complements on my glowing skin.
So, the pros and cons.
Wins points for:
The results! My skin looks much better, and I've noticed that my foundation glides on and sinks in easily since using it.
It's waterproof, so you can use it in the shower for your body and face.
Rechargeable, so no messing about with batteries
Loses points for:
The price: £172 is pretty pricey, but if you treat yourself to regular facials, this actually works out as a cheaper substitute.
The initial charging time. A whole day!
It's not quite nimble enough for the area around my nose.
Conclusion
If I had £172 handy, I'd seriously consider buying this. Just don't try and take your eye makeup off with it. Ouch.
You can buy it from the Clarisonic website and Space NK