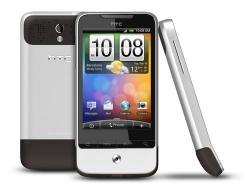 If you're a lover of air conditioning and cool air, get yourself down to Hell right now. It has temporarily frozen over whilst I temporarily dump my iPhone for an HTC Legend.
When announced, I wrote that the Legend might just have the potential to make the swap from iPhone to Android, but it was always going to be a tough transition. Here's a little diary on how it's gone.
Day One
This has officially been the worst day bupropion of my life.
What, you want an explanation? Oh alright. I have tried to de-Apple myself, and Googlify my life by swapping my sim to an Android phone. The result? A kabillion duplicated contacts on my iPhone, calendar appointments appearing two or three times and inexplicably adding alarms at every opportunity, an iPhone wiped of music and a whole load of tears. Don't get me wrong, I'm not blaming Google, and I'm doing my best not to blame Apple. I'm sure there are ways of smoothly transferring all of the above between operating systems, but I'll be damned if it's ever happened to me.
Day two
I've yet to find the time to take advantage of all the things that make Android phones a compelling option, and I'm still in mourning for my well organised, if slightly Apple-dominated, life. Having said that, I spoke to my mother today, and her review of the phone was as follows: "Buy this phone immediately, Susannah. This is the first time I've been able to hear you properly in several years". I'm thinking of getting her a column in Mobile Reviews.
Day three
The battery seems to be worse than my iPhone, which is saying something, and it takes me a while to realise this is because of that damned multitasking I was so excited about. Exiting to home from the middle of a programme keeps it running, and I've now got a dozen things sucking up the battery all at once. A quick Task Killer app installation, and I think I've got it sorted.
Day four
Today it came close to clicking. I always thought Spotify was my killer app for an Android, or at least the ability to run it in the background made it leaps and bounds ahead of the iPhone version. I've now upgraded Spotify and so could listen to my cached playlists. If I keep the Android handset it's going to change the way I listen to music – currently I have 2,000 songs on repeat, most of which are old news. With Spotify I can see myself preferring whole albums, simply because the playlists are easier to manage that way. No bad thing, actually, as it might increase my musical concentration from 'first line….bored of this…skip…hate this one… skip…'.
Find out if Susi survived the week in the next gripping instalment.