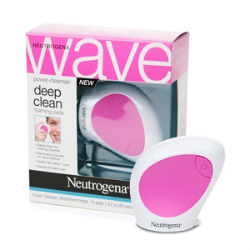 I mentioned the Neutrogena Wave in a recent post about vibrating makeup.
At the time I was a little dubious at how well it would work against my tried-and-tested cleansing routine. I already exfoliate on a weekly basis, so I was interested in how this would match up.
So did I get swept away by the Wave? Or was the whole experience a wash out? (sorry!)
The new range of Wave products include a set of blackhead-eliminating pads, which came with the set I was sent.
The Wave was easy to set up, I just popped the supplied battery into the hand held device, attached one of the pads to the front, and ran it under warm water.
Using the Wave to exfoliate was straightforward, and it's nimble enough to use on more difficult areas like around the nose. I was expecting masses of foam, particularly as the advert gives that impression, but there was barely a trace of soap on the skin.
The results were mixed:
Gains Points For:

Being easy to use
Being small and compact
No mess from bottles and pumps
Felt pleasant on my skin
Left my skin feeling softer
Loses points for
🙁 Dry skin on my forehead, possibly due to the soap
🙁 Little difference to quality of my skin
🙁 Little difference between this gadget and normal exfoliaters
🙁 Expensive to re-stock on the pads
Conclusion
This is one of those products where the results depend on your skin. Personally, I have combination skin and I found it too drying. For those that are prone to greasy skin, this may be more beneficial. It's not a bad gadget for deep cleansing your skin every day as it's gentle too.