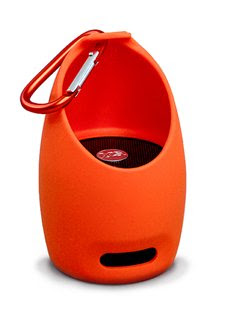 If you're a fan of both fashionable gadgets and portable speakers, then the new Bongo Drop by XSories is definitely worth checking out. Because aside from being so very pretty (I would very much like an orange one, thank you) it's also compact, handy and entirely ready for you to take with you wherever you go.
No fuses, zero fussing about
The Bongo Drop is a new portable audio computer and iPod speaker, made by extreme sports/travel experts XSories. It boasts three watts of sound, and a built-in battery. So you won't have to fiddle with any leads while you're out and about.
A charge time of 2.5 hours gives you four hours of listening pleasure, depending on what volume you're playing the music to. A mini USB port, along with a port for a Micro SD and 3.5 jack allows you to connect any type of device to the Bongo Drop speaker.
Stylish sound
The drop-shaped silicone cover makes this speaker absolute eye-candy (I know I'm coveting it like crazy right now…). It comes in eight colours and a matching coloured carabiner. So if you're on an adventure holiday, you can get some serious hiking time in while listening to your favourite tunes. It's also protected against shocks and water splashes, so it's ideal in almost any environment. XSories are specialists in extreme sports and travel accessories, so I wasn't kidding about that adventure holiday…
The techy bits
HI-FI sound quality with DBBS technology: Bluetooth: 2.4G – to 10M
USB to Mini-USB cable for charge and data transfer:
Micro SD/TF card slot for MP3 files:
Line-in: for MP3/MP4 player, iPod/ iPhone/iPad series, PC:
Materials: aluminium alloy, aluminium, silicone:
Power – DC 5V Built-in Lithium battery: 450mAh:
Full charging time: 2.5 hrs: Operating time: 4 hrs (depending on volume):
Sensitivity: ≥80dB Output power:3W x 1: Frequency response: 20-15Khz:
Included: Silicone cover / Carabiner / USB to Mini-USB cable / Audio cable / User manual.
Where can I get one?
In store at most bicycle retailers.