There's a plethora of sports titles available for mobile devices: everything from full recreations to pick-up-and-play mini games. Unless you're a die-hard polo or lacrosse fan, chances are your favourite sport will be represented somewhere, somehow.
Electronic Arts typically dominates the market with mobile versions of its big-named brands, but you could read recommendations for those games anywhere. Here at Dork Adore we like to do things a little differently, so here are the top five titles that may have passed you by.
Score: Classic Goals (iOS)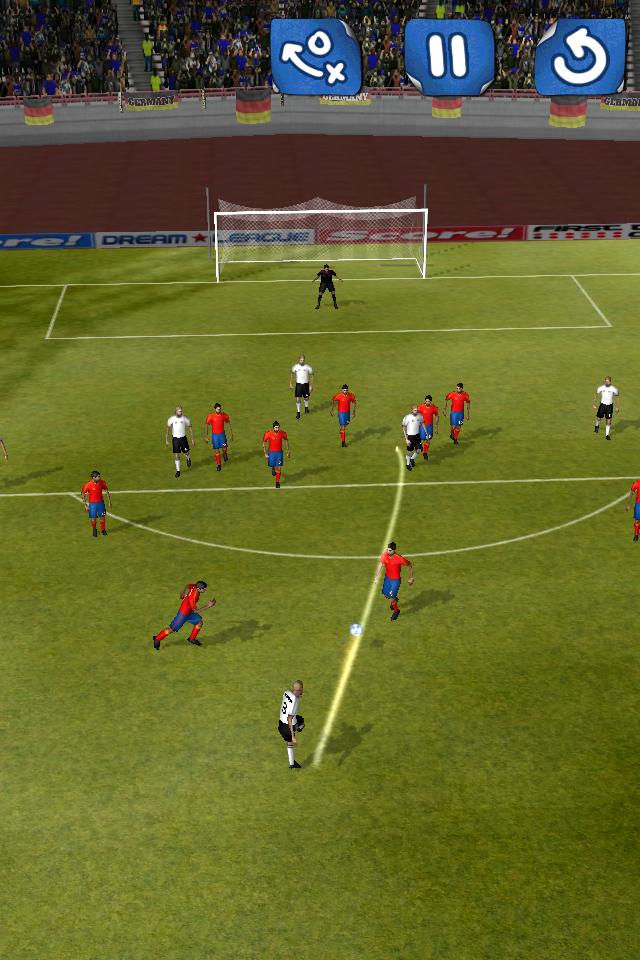 First Touch Games' latest offering was only released very recently, but expect this to be popular.
Score! Classic Goals is an ingenious amalgamation of genres that blend seamlessly to create an addictive and challenging experience. Taking the format of many puzzle games, SCG tasks you with recreating majestic strikes and match winning moments from the last four decades of international football and scoring your efforts out of the obligatory three-star marking.
Many significant moments from finals to friendlies are here, including Ronaldinho's did-he/didn't-he? free kick against England in 2002, Dennis Bergkamps' incredible deciding goal against Argentina in the France '98 quarter-final, and even THAT Roberto Carlos free kick from Le Tournoi in '97.
Each "stage" begins with the details of the match and goal with a diagram showing the path the ball took. The player then has to redraw the passes and shot as accurately as possible. For football fans this is wonderfully nostalgic – and with possibility of updates for Premier League and Champions league goals, future updates could be incredible!
NFL Flick Quarterback (Android, iOS)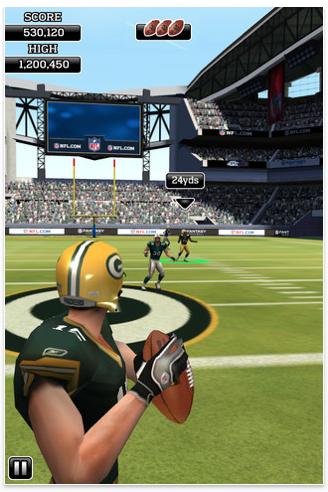 Pretty much everything that Full Fat releases is well worth checking out, but for the sake of this list I'm picking NFL Flick Quarterback as my game of choice.
There's a host of simple game modes on offer, which range from completing as many passes as possible, time attacks, and a very fun target mode, which tasks you with throwing the ball into large buckets. As your score builds you'll have to contend with varying wind, extra defenders, and the threat of being sacked.
The swipe controls are accurate, which makes completing a 40-yard pass easy and satisfying. The graphics are in full 3D and certainly on par with some of the better looking sport games available.
If you like American Football, and you want something you can quickly pick up and play, this is certainly for you.
Super Stickman Golf (Android, iOS)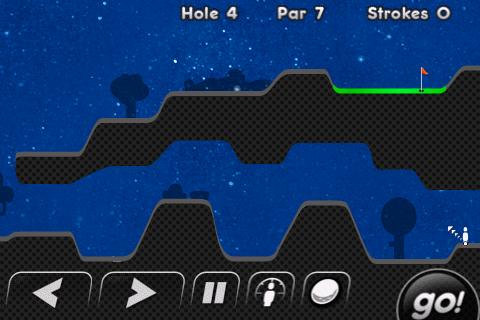 Golf games are one of the oldest, simplest, and most enjoyable types of games on mobile devices. Even before the arrival of smartphones the last generation of handsets invariably came bundled with some kind of miniature golf game.
Noodlecake Studios has kept things simple, creating an addictive and challenging golf game with a very simplistic 2D aesthetic. This is old-school, early 90s home computer fun at its finest.
I won't patronise you with a run-down of how to play – it's golf – but with over 30 courses to master, a limited number of special abilities per round, and both online and local multiplayer, Super Stickman Golf will keep you entertained at least until Tiger Woods wins his next Major (which will probably be a long time for all you non-golfers!).
Flick Kick Football (Android, iOS)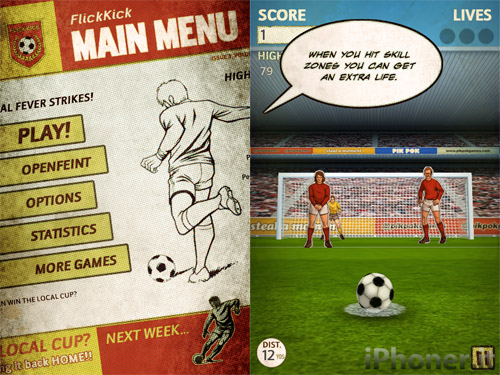 There are a lot of flick-the-football-into-the-goal games available for mobile phones, but Flick Kick Football is the original and the best. OK, so the graphics might not match up to Full Fat's Flick Soccer, but in terms of game-play and overall fun it's definitely a clear winner on aggregate score.
Much like Flick Quarterback before it, this has all the usual game modes you'd expect – continuous arcade shoot-out, time attack, and the accuracy testing Skill Zone and Bullseye modes – as well as a very comprehensive list of options for multi-player fun.
Pik Pok really *ahem* set the ball rolling with this one, so if you're a footy fan who wants a pick up and play game for those spare seconds that plague your days, look no further.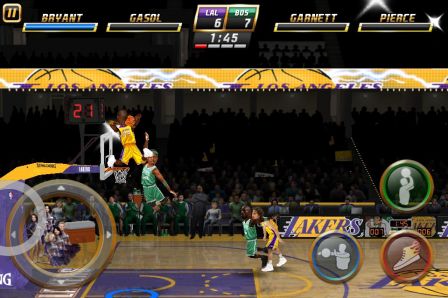 Alright, alright, so I'm a massive liar and a corporate shill, I know I said no EA games, but this is NBA Jam people. NBA Jam! You know: "From down town!", "He's on fire!".
This game stole many hours of my youth and probably a great deal of yours too. Nothing much has changed – it's still the same old over-the-top two-on-two basketball game it was nearly twenty years ago. The only difference here is that the team rosters have obviously been updated and given the trademark inflated head treatment for the re-release.
With an extensive career mode, simple controls, and outlandish style, this is a must-have for any basketball or nostalgia fan with 69p to spare.
Have you got any killer sports apps that I've criminally ignored? Or perhaps I'm just ignorant fool with terrible taste?! Either way please enlighten me in the boxes below.
More mobile gaming on Dork Adore | More iPhone Apps | Android Apps