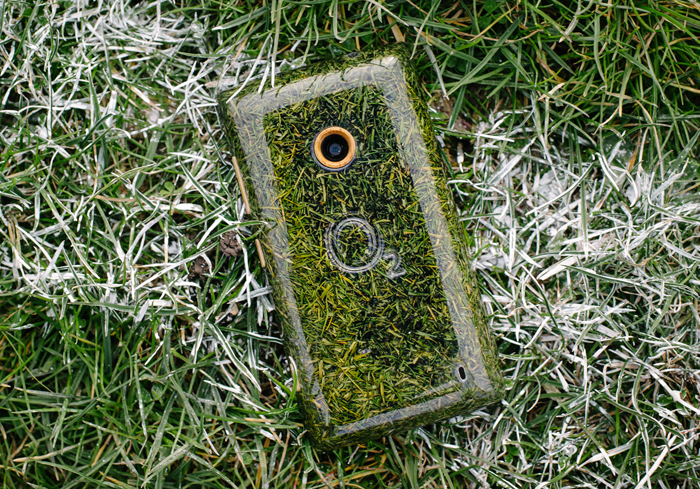 The fully functional herbivorous device is a UK first, having taken more than 240 hours to build, using tens of thousands of blades of grass sourced from Twickenham Stadium for the casing and locally sourced wood for the buttons. The insides are made up of recycled phone bits.
Freeze-dried within two hours of being cut from Twickenham Stadium, the grass then went through a pulping process, was moulded into a template and covered covered in an eco-friendly resin made up from waste materials to make it into a hard shell that can protect the phone's internal organs.
Sean Miles, the phone's designer, says:
"We wanted to give the 'old and forgotten' a new lease of life and create a thought provoking prototype which would make people stop and think about recycling in a new and different way. The phone itself is incredibly striking and those who use it can pick out every blade of grass and imagine the incredible rugby games which have been played over them."
The green gadget has been made in collaboration with O2 Recycle, a part of the O2 Think Big environment initiative that offers cash payments of up to £260 for used devices.
Ok, so a phone made out of grass is a pretty cool thing to have, barring the obvious allergy connotations. But what was the marketing thinking behind making this one?
Bill Eyres, Head of Sustainability at O2, says:
"By creating this phone we are demonstrating how two of O2's passion points – rugby and O2 Recycle – can come together, as a force for good.

O2 Recycle offers a simple, sustainable way to recycle unused gadgets and receive a cash payment in return whilst at the same time backing a great cause and recycling for rugby. We are calling on people across the country to recycle unwanted gadgets and help raise the £350,000 we have pledged to support the RFU's Try for Change social responsibility programme, aimed at promoting rugby as a powerful tool for social change."
For more information on O2 Recycle or Think Big visit, visit the O2 Recycle website.