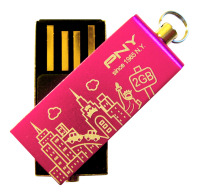 See this USB on the right? It doesn't light up, dance when you get an Skype message, or play your favourite music through a pair of minuscule speakers.
You won't be able to reheat your coffee on it or engage colleagues in a mini desk game.
You see, this USB has successfully side stepped the usual novelty USB pitfalls and kept it simple by just being functional and, well, pretty!
The PNY's City Series Micro USB key, is a dinky little USB flash drive that allows you to store your documents and images in a stylish manner.
Each memory stick, and there are several varieties available from 2GB (£9.99-£11.99) to 16GB (£49.99), features a 'city landscape' cartoon style design.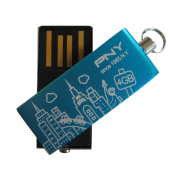 The USBs are also extremely small, measuring just 12.2 x 29.7 x 6mm, so you'll be able to pop it in your pocket or attach them to your keys. On the flipside, you might also lose it down the back of the couch or right at the bottom of your bag. Hence why you should use that little loop on the end.
I know a few uni students who would love this USB in their Christmas stocking, especially when trudging up to use the library computers to work on their dissertation.