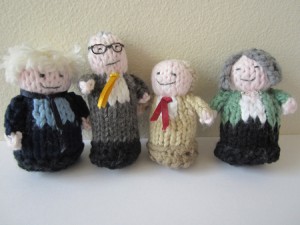 In the run up to the London mayoral election (not to mention the Queen's Jubilee and the Olympic Games) I'm suffering a bit from politician overload.
Or, at least, I thought I was, before I saw crafter Heather Brown's woolly take on the front-running mayoral candidates.
Trust knitting to lighten the mood!
Spotted on Londonist.com, these knitted politicians may be small in stature, but they certainly have a lot going for them. For one thing, mini Boris, Ken, Brian and Jenny all look infinitely more huggable than their human counterparts. I also can't help but admire their little ribbon ties in party colours: very fetching.
So, who should become London's Mayor? I can't be the only one thinking that with her creative approach, eye for detail and apparent sense of humour, Heather Brown herself might be an ideal candidate. After all, at the very least we'd get to see some fantastic cross stitch placards.
Related: More Knitting Posts On Dork Adore