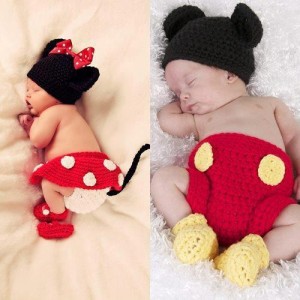 This is the cutest, most adorable baby attire ever!
The Minnie Mouse ensemble seems to be doing the rounds on Twitter and Facebook  – and, after a long search for a crochet pattern, I finally found one on Etsy.
It's from the shop AffordableWonders. It's not free, but it's well worth the £2.59 the pattern will cost you.
The skill level is easy, and is for new-born up to 12 months. You can also purchase a Mickey version at the same shop.
If you are not so crafty, but still love the costume then you can buy a similar pre-made one from DesignsbyDecember or a pink one from JustBecauseBowtique, both sellers on Etsy.
Related: Mickey and Minnie Mouse crochet hat patterns
The colourings are slightly different, but keep your eyes peeled on Etsy if you want an identical one to the photo, as it is stipulated that pattern buyers are allowed to sell their items.
With the Minnie Mouse Diaper Cover trending so much on Facebook I expect to see an abundance of them available on Etsy and Ebay very soon.
Yoo Hoo to the Minnie Mouse Diaper Cover pattern!