If you're a fan of comfortable working, you may have already gotten yourself one of these laptop tables. And let's face it, why wouldn't you? They're convenient, you're able to move them around and you're not bound to stay at a desk all day. And on top of that, you have the advantages of not ruining your back and neck, and your laptop won't overheat (as mine is wont to do on other surfaces).
But if you're still considering buying one, and you're not sure what to get, here are five laptop table-sized nuggets of inspiration for you.
The Quadro Oak And White Laptop Stand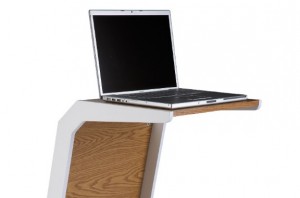 A brilliantly modern design and a multi-use table. This laptop stand from Space2 can be used both while on the sofa and with a normal office chair. Plus, it functions equally well as an end table and a TV dinner table! That's kind of all you want from a piece of furniture, is it not?
This funky oak and white design can be yours for the price of 50 pounds. Go to Space2's website today and, you know, order one, I say!
Targus Laptop Chill Mat

For those of you who like to keep their laptop close by, but don't fancy dealing with it overheating. The Targus Laptop Chill Mat from Argos has a tilted surface to ensure that you're typing with the best of comfort. This mat uses dual fans, dispersing heat, so you don't have to worry about overheating. Pretty nifty, I say.
IKEA DAVE laptop table in black
You can always count on IKEA to bring the style. This laptop table doesn't only look good, the work surface can be adjusted to your needs because both the height and tilt angle are adjustable. Not only that, it's also light and easily assembled.
The DAVE laptop table from IKEA is yours for 17 pounds. Order your table online from the IKEA website.
BYLLAN laptop support from IKEA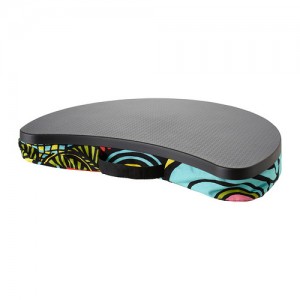 Speaking of the Swedish furniture aces, they've also got this very pretty laptop support in stock. The cover is removable and machine-washable, and it also comes in a stylish black and white colour. It supports laptops up to 17 inches and keeps stable on both your lap and any uneven surface thanks to the formable base.
This laptop support is available for 9 pounds. Order one today from the IKEA website
.
Warlingham oak small laptop table
A laptop table that's also a coffee table? And it provides storage? Well, conveniently enough, I found this beautiful table that does just that. Made out of oak, it's a stylish addition to your living room. Plus, who ever said no to some extra storage room? Or for that matter, a space to put your coffee mug on?
This oak table from Warlingham Furniture costs 342.55 pounds. Order online on the Warlingham Furniture website today.