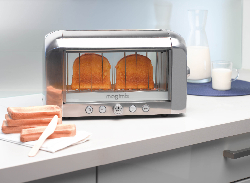 Until this very moment, I had no idea how much I wanted to watch my breakfast develop from plain old bread to tasty toast.
Previously, I simply popped my chosen bread into a boring old toaster, and waited until it popped up.
The Magimax Vision Toaster changes all that.
The toaster maintains the high standards of Magimix with its stainless steel cooking products, whilst updating it with a glass wall so you can watch your morning meal cook.
A toaster that looks good and lets you keep an eye on your toast before it burns? A winning product all round!
You can buy the Magimix Vision Toaster from John Lewis for £160.