Tiny kitchen? Me too. But if you hate washing up as much as I do, you'll find a way to squeeze in a dishwasher.
Here's my selection of the best teeny tiny kitchen appliances for your teeny tiny kitchen.
£350 John Lewis
There aren't many of these super-small dishwashers on the market. This Bosch model isn't the cheapest on offer, but it's one of the only A-Rated models available and if you don't want to waste water and electricity, it's worth paying the extra.
I am the proud owner of the forerunner to this particular model and I *love* it; it's compact, quiet and efficient. And you can cram a surprising amount of stuff in it.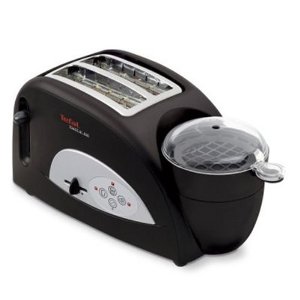 This toaster comes with an egg cooker that can poach, boil or fry one egg while your bread cooks.
It's easy to set up; all you need to do is put the toaster through three empty rounds and wash out all the parts of the egg section.
The toast section is like any other toaster. Like many toasters, the sections are a bit short so you can only fit small slices of bread – very frustrating, but not unusual. It's good for muffins and crumpets though, and it's has a pull up section for warming through croissants.
The egg section includes a bowl which you fill with the desired amount of water. Then you fit on the required attachment and cover. I tried all the cooking option (poached, boiled and fried) and they all work really well. You'll have to experiment to get the egg cooked how you like it, but once you've got it right, you can set the time the same so it comes out the same every time.
It's just a shame it only does one egg at a time.
Tefal Toast N' Egg from Amazon
Caple Sense C5100 Lift Oven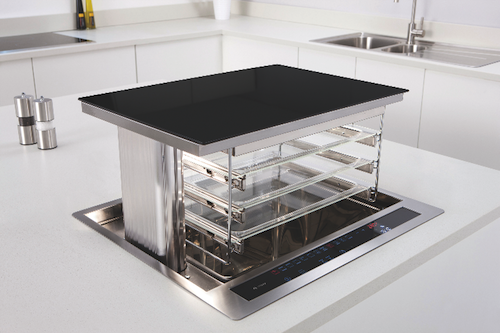 An oven that hides in your kitchen worktop! Perfect if you have a tiny kitchen but a large budget, this Lift Oven will set you back a good £2000.
Press a button and the oven rises up, press another button and choose from one of 13 touch-control functions including pizza and bread-making programmes. www.caple.co.uk
Tesco sells a range of Caple Ovens but we couldn't find this one for sale online. Get in touch with Caple via their website for stockists.