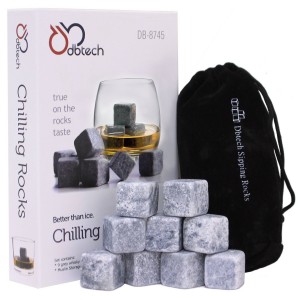 The phrase "on the rocks" couldn't have a truer meaning with these new ingenious ice cubes. Quite literally, these beauties from DB Tech are polished rocks that chill your drink.
The rock itself is made from 100% soapstone, which maintains an ideal cooling temperature for longer, and is extremely lightweight with a soft finish so glasses go undamaged. The rocks are also Regarded as Safe by the FDA (Food and Drug Administration).
But why use ice rocks over generic ice cubes? Well, firstly, there's the beauty and novelty of it all. The design is simple yet stunning, and the idea of a stone and slice appeals (somehow)!

Secondly, and most importantly, it is what these rocks do…or don't do. The frozen rocks will not melt and therefore do not dilute the drink. They have no odour or taste so drinks retain their full flavour; something of utmost importance to any whisky purist. They stay chilled for a long period of time – up to two hours – and are re-usable.
DB Tech has a nice set of stones on Amazon at just £15.99. The nine stones come in a muslin pouch, and will chill three drinks (you're meant to use three stones in each glass). Simply freeze overnight, use, wash and re-freeze.  The rocks can also be heated to keep hot drinks hot!
Mine's a Martini on the rocks.