I might as well come out and say it straight away, the ROK Espresso Maker (£129) is excellent.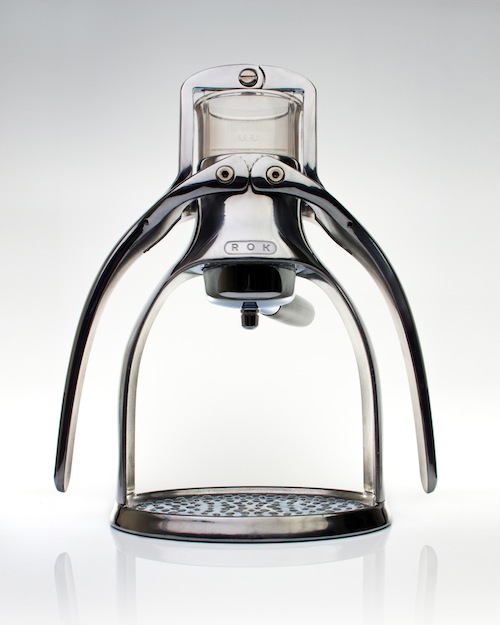 I'm a fan of coffee, owner of a Gaggia Classic Espresso machine and countless cafetières – all of which serve their purpose really well. (If you've not got a thermal coffee press that keeps extra cups of coffee warm for at least an hour, you should get one!)
But the ROK has become my favourite way of making coffee.
Hand-powered portable espresso machine
The ROK hand-pumped coffee machine makes one double-shot espresso at a time. This means it's a little faffy for a family of coffee drinkers, but if you're a sole slurper, it takes next to no effort to get a great coffee.
Simply wait for the kettle to boil, pour the water into the top, raise the ROK's handles then push them down. It's a bit like a giant version of one of those wing corkscrews.
Pushing down the handles creates the required pressure to force water through the coffee basin, and voila! The espresso making mystique vanishes in one wonderful mechanical action. And you even get decent crema froth.
It also comes with a little hand pump to froth up warm milk and make lattes or cappuccinos.
See also:
Beautiful and useful
One small criticism I have is that the metal dish holding the coffee can't be removed from the handle (unlike my Gaggia), which did leave me wondering how to clean it properly. I also found the removable rubber disc filter that separates water from coffee is a little fiddly to take out.
Not only does the ROK work brilliantly, it also looks and feels really cool, which is all that you can want from life: it's beautiful AND useful. I'm not sure how many people would want to take it camping since it's fairly hefty, but if you are staying in the same place for a week or so and you're going by car, you'd feel pretty pleased having this with you.
ROK Espresso Maker is available from ROK Kitchen Tools now and Le Cafe Shop soon for £129
Check out the video from ROK below to see how it works.