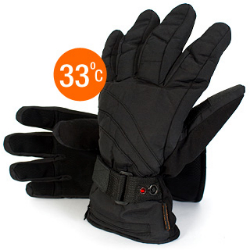 Heated gloves. Not the most exciting thing we've ever reviewed on Dork Adore, I'll grant you that. But in a country that considers a stretch of more than two consecutive days of warmth "summer", heated products are a highly desired item.
Firebox sent me a pair of Heated Gloves, which boast a top temperature of 33 degrees.
I walk the dog most mornings, so I had the perfect opportunity to test them out.
Here's how I got on:

The gloves are similar to the kind of working or gardening gloves you get for tougher outdoor work, with the addition of a small red button on the wrist. Fashion-concious they're not.
Wins points for
Being comfortable and flexible.
Warming the fingers and the back of the hands, where the warmth is needed most.
Easy to use, with just a click on the back of the hand.
They are, to an extent, waterproof. So they're fine for rainy walks and football matches.
Loses points for
🙁 Um, the lack of real heat. It's more like a muggy, lukewarm heat than anything that will really keep you toasty.
🙁 Batteries aren't included, which is an added cost.
🙁 The battery life isn't particularly long, an hour at the most.
Conclusion
I like the concept of Heated Gloves, but it doesn't quite fulfil its promise. At £29.98 from Firebox, they're a little on the pricey side too. It's something I'd consider for someone who spends a lot of time working outside, but I don't think I'll be splashing out quite yet on a pair.