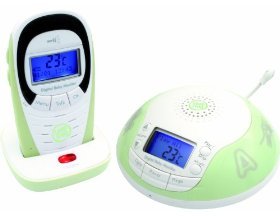 There's nothing quite like having constant access to every grunt, squeak and snore your baby makes, and this LeapFrog Advanced Digital Baby Monitor (£58.79) is specifically designed for that very purpose. It also keeps track of the room temperature in the nursery, plays digital lullabies and provides a pleasing, soft glow so you can see your way round in the dark.
The "parent talkback" is a sure-fire way to freak your poor child out as it lies there wondering how mummy's voice is coming out of the talky box. Alternatively, you can simply use it to interfere in your partner's parenting habits when you're downstairs listening in. There's a torch, a feeding intervals alarm and an option to change the sound sensitivity so you don't need to be on call for every single gurgle.
Gains points for
The soft texture and nursery-friendly design
Nice range of features
Remote control functionality that lets you fiddle with the settings from the sofa
Loses points for
🙁 Surely we're past polyphonic lullabies by now (although babies seem to like them – but what do they know?)
LeapFrog Advanced Digital Baby Monitor on Amazon (£58.79)
LeapFrog Advanced Baby Monitor prices on eBay.
Also available on Baby Monitors Direct