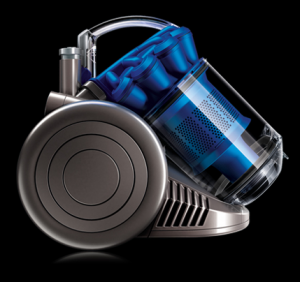 I've been using the Electrolux Intensity for many years now (here's a video of me talking about it back in 2007), and the simple fact is, it doesn't matter how great its suction is, how splendidly small it can be folded and how smart it looks, it's heavy, it can't do stairs, corners or cobwebs, and the bag is so tiny it can barely muster enough puff for an entire room.
And before Electrolux, there was a hovercraft vacuum, a robot vacuum and all manner of other hoovers that all sucked me in (so to speak) with their nifty sounding cleaning stratagems. Usually, they captivated me long enough to give them a good review, too.
Which is why it's time for me to come clean, admit I'm a sucker, dust down my critical faculties and wash off the dirty feeling I've got from all those bad puns. This time around, I'm a cynical housekeeper finding fault wherever I can.
The Dyson City Wool + Wood comes in three different sizes. I tested the very smallest one, which is so compact you can sit it on a piece of A4 paper (should you ever feel the need).
The design itself is smart enough. I'm not a huge fan of the Dyson look, but you've got to admit that they're unmistakeable. Just to nitpick, I'd really like to be able to fold the hose down even more: it's all very well having a cleaner with a tiny footprint, but if it's as tall as all other cleaners, it still needs the same size cupboard.
I may not be keen on the Dyson look, but the usability of the design is second to none. Everything has an appropriate button, lever or clasp and nothing is wasted. There are no bags with this cleaner, and no disposable filters either: you simply take out the filters and give them a wash regularly (register your Dyson on the website and you'll get an email reminding you when it's time to clean them again).
You'd think with a frame that small, the tiny City would struggle to muster the energy to do a decent clean up job. In fact, the little sucker is so powerful it jumps off the floor when you switch it on, reminding you not to underestimate its ability to drag dirt out of your carpet.
I've been using this vacuum for a month or so now, and I'm totally smitten. The City cleans impeccably, is expertly put together and it's a doddle to empty and maintain. You don't really need one of the bigger models — there's something quite nice about emptying your Dyson regularly rather than leaving it all in the machine gathering… dust. But if you really would rather have a larger model, the City comes in medium and large too.
Gains points for
Great design, including a compact cylinder and a clip-on accessories holder.
Excellent cleaning. Powerful suction and — as the name suggests — suitable for both hard and carpeted floors.
No waste. Everything can be removed and cleaned, so there's nothing to throw away. You do need to wash the filter regularly, however, or you'll notice the drop in quality.
Loses points for
🙁 It's a matter of taste, but coloured plastic doesn't really do it for me.
🙁 It's thin and skinny, not short and fat. Fine if you have a tall cupboard for storage, but no good if you want to stash it somewhere smaller.
Dyson City Available for around £200 from: