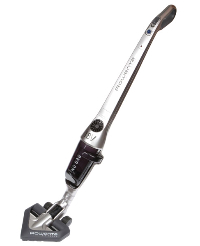 I have a long-term hatred for cleaning the house. As much as I envy those people with pristine, pet hair-free homes, I'd rather spend my Sunday afternoons on the sofa watching a boxset then fluttering around the place with Mr Sheen. Sadly, cleaning is a vital chore for those that don't yearn to be a case study for How Clean Is Your House?
We've already looked at a few cleaning gadgets on Dork Adore (check out Katie's reviews of the Dyson City Wool + Wood DC26 and the Black & Decker Flexi Hand Vac). So, um, here's another one!
The Rowenta Air Force is a cordless, bagless vacuum cleaner with a pointed front to get into all those nooks and crannies. A cleaner I can potentially use without getting up from the sofa? Definitely worth a try.
Aesthetics
The Rowenta Air Force looks more like a sweeper than a vaccum cleaner, with its lightweight frame and handle. The fact that it comes in a number of colours appeals to my slightly OCD approach to co-ordinating products but, other than that, it's nothing mindblowing. The triangle-shaped head does help it stand out, but I'm still dubious as to whether it's a gimmick or a genuine improvement.
A clean start
Handheld cleaners have a (fair) reputation for lacking the suction of their plug-in alternatives. And whilst the Rowenta Air Force doesn't dispel this reputation, it does exceed my expectations somewhat. Running it around the carpet picks up about 75% of the debris, and it's surprisingly successful in those tricky corners. The flat head means it's also great for whizzing around the kitchen floor before giving it a mop.
The removable bagless compartment is really easy to detach, without the usual dust cloud, although it wouldn't hurt to have a larger section. Charging is fairly straight forward too — similar to charging a mobile phone — and each charge lasts around 40 minutes.
Wins points for
Flexibility. The stick bends every way, meaning you can easily get under the sofa without any unnecessary effort.
Triangle head. The suction goes all the way to the edges, which is great for those corners a more substantial hoover misses.
Lightweight. Having a lightweight vacuum certainly makes cleaning less of a chore.
Storage. It's tall and slim, so it's great for storing away in the broom cupboard or under the stairs.
Loses point for
Suction. It's good for a cordless option, but it can't compare to the heavy duty corded options.
Recharging. A little annoying to have to stop every 40 minutes to recharge. Saying that, I seem to get the hoovering done a lot quicker anyway, so I only need to recharge between sessions.
Conclusion
I was surprised at how much I enjoyed using this. Because it's so lightweight, it's easy to use as a top up each day, or for spot cleaning. If you've moved into a small flat, this is perfect for all surfaces (even the sofa!). For a home that requires a little more suction, or for anyone that owns a pet that malts, it's worth sticking to something like the Dyson City Wool + Wood DC26.
You can buy the Rowenta Air Force from:
IdealWorld for £129.99 (with free steam brush)