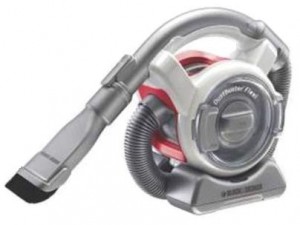 I don't think I ever fully appreciated the charms of a handheld vacuum cleaner until I got sent a Dyson handheld to test a few years ago. The Dyson is long gone, sadly, killed in a flash flood in the cupboard under the sink after someone forgot to mention that the pipes had been disconnected.
Anyway, we don't talk about that tragic day anymore, and we've moved on and rebuilt our lives thanks to the likes of the (not actually that great) Vax Kone and now the Black & Decker Flexi Hand Vac.
The Flexi model is, as you'd probably surmise, kitted out with a flexible hose that can be unwound from the main unit and extended for additional reach.
Although I considered this ungainly at first, I soon found countless uses for this two-handed cleaning method. Unlike other hand vacs, the Flexi makes it easy to do things like dust down your shutters and blinds. Because you can carry the unit in one hand and the hose in the other, you don't find yourself fighting against gravity to hold a cleaner above waist height, which means you can grab cobwebs and clean window edges with the greatest of ease.
In fact, the only downside is that because this is a rechargeable cleaner (like other hand vacs), you will exhaust the battery before you've exhausted your dusting options.
Black & Decker Flexi Auto car cleaner
There's a car model, too, (Flexi Auto, £59.99), which uses a cigarette lighter plug – though having a special vacuum cleaner for the car feels like a luxury too far too me (unless you're serious about your OCD). And the Flexi Vac certainly seems to be in its natural habitat when in a car. The hose makes for a far more rewarding cleaning experience than a standard handheld could offer, though you'll need to have all your major suck-work done in around 8-10 minutes as that's all the power you'll get (again, that's pretty standard).
You'll also notice an appreciable drop off in power after a few minutes of concerted cleaning, and because the power cord is very short, you won't have the option of leaving it plugged in while you get carried away doing the whole kitchen floor (instead of just the bit you meant to do). But moaning about that feels like I'm blaming it for not doing something it was never designed to do in the first place. I guess that's what happens when you add a flexible hose: people dare to dream.
Gains points for
Flexible hose (and flexible cleaning)
Good design
Competent spot-cleaning.
Loses points for
🙁 Being so useful that it makes you annoyed that it's not even more useful, even though it isn't meant to be.
🙁 Being yet another bagless cleaner I can't empty without spilling bits all over the floor and creating an endless cycle of vacuuming.
🙁 Having a short power cord (which probably adheres to some strict Health & Safety rules, but thwarts my desire to dust down every single surface in the flat).
Black & Decker The Flexi Auto is currently available for £59.99 from Amazon. The rest are coming soon.
$69.99 in the US
€87 in Europe