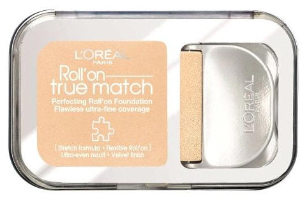 This week, we've got a guest post from Katie Innnes.
I'm a big fan of gimmicks when it comes to my make-up. I'm aware this doesn't make me the grown-up beauty expert I'd like to be, mainly because I won't buy something unless it comes in pretty packaging or has an idea behind it which is so absurd it kind of makes sense.
Take L'Oreal's new foundation True Match Roll' On, which takes the classic make up jokes about 'troweling it on' and 'painting your face' and turns them into a reality.
The foundation comes with a mini roller, exactly like the ones used for painting and decorating, except dolls house size and for your face.
Yes, I'm aware it sounds mad and just a marketing ploy but on sight of the advert, whilst shaking my head feigning a "no, that really is one step too far, not even I could fall for that" to keep my credibility, I was actually thinking "what an ingenious idea, I'll be buying that one."
And it wasn't just the roller that made me want to spend my pennies. The advert makes perfect sense (to a gullible consumer like me) It claimed that with "other foundations you have to blend, but with L'Oreal Roll' On True Match you just roll it on." Therefore I could justify the £12 I was to spend on it, I wasn't being taken in by a gimmick.
However, what L'Oreal (and I) failed to realise was that a woman's face is not flat like a blank wall. It has bumps and curves which a roller just can't navigate. Trying to apply the foundation to my nose resulted in an odd stripe up the centre of my face and questionable lumps of foundation below my nostrils. And guess what? I had to blend it in.
Two hours later the foundation had completely disintegrated. So out came the roller again and after the three more re-applications the novelty really had worn off. The foundation is now resigned to the darkest pits of my make-up bag with all my other foolish purchases.
You may wonder if I've learned my lesson? Has my experience put me off gimmicky beauty products? Hell no! Like a lamb to the slaughter that vibrating mascara is next on my list…
True Match Roll'on £12.71 from Boots