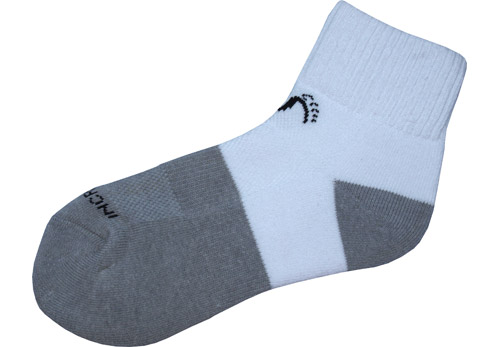 "Are you looking for comfort when you exercise? Do you suffer from exhausted feet? Then Incredisocks may be just what you need!"
So says the press release. Personally, I never expect comfort when I exercise (usually I expect early death and/or heart failure) and the only part of me that suffers from exhaustion is my backside from the endless sitting (see what I did there!)
HOWEVER, the PR people at Incredisocks (£19.95) did a great job of selling these to me. For starters, they promise to improve circulation. I have cold feet, so this is very good news.
Apparently, they also reduce swelling, keep your feet dry and increase range of motion (although I'm not entirely sure what that means). Since I am currently mid-way through a pregnancy, the promise of reduced swelling and well-supported feet is something I can get truly excited about.
And, I'll be honest, I am a sock geek. I obsess over alpaca and cashmere socks and I have a selection of supposedly brilliant hiking socks (most of which either make my feet sweat or give so much support I feel claustrophobic in them). Did I mention I get cold feet?
Sock reviews elsewhere on the web
There's a great review of these socks over on Another Mile looking at Incredisocks from a runner's perspective. From a waddler's perspective, I can tell you that they made my cold feet warm and kept them that way even without slippers; they didn't make my feet sweaty and cold like man-made fibres can; and they were really comfortable and supportive.
Like the reviewer on Another Mile, I'm dubious about the claims made about "anions" (or negative ions) produced by the "bamboo charcoal" fabric. But what I do know is that they are now top of my sock pile, possibly even usurping my alpaca bed socks as my favourites.
Incredisocks cost £19.95 from Revital
Can't get enough of foot-based geekery?