World of Geekcraft is a must-have book for geeks who adore crafting.
This quirky read offers 25 project templates, step-by-step instructions, how-to drawings, unique illustrations and photographs encompassed in 192 pages of sheer Geek delight.
Penned and put together by Susan Beal, author of Super Crafty, this book is a user friendly manual. We suggest all our Dork Adore crafters get their paws on a copy: it is loaded with enough craft projects to satisfy even the geekiest of Geeks!
My personal favourite is the Harry Potter Baby and Toddler Costume. Dork Adore has previously published a free pattern for a Gryffindor Scarf in case you are expecting and want to match! Other notable projects include a Star Wars Terrarium, Morse Code Quilts, POW! ZIP! Magnets and a Pac-Man Fever Wii-mote belt and holster.
What more could any crafter on the Dork side want?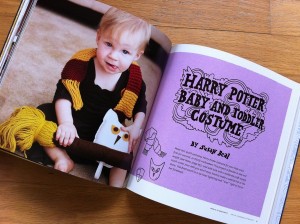 It is necessary to warn you that whilst I am simply in love with this book's kooky design and comic-style graphics, it feels like it was designed to appeal to a younger generation, which seems to be against its real target audience.
The book is not for a child who likes rockets – it's for experienced crafters who are skilled in the mysterious ways of the fibre and paper arts and who have the equipment needed to make these simply wonderful projects.
If you are crafty, love anything a bit fantastical in the Geek World and you've already got a fully stocked craft kit, this is the must-have book for your Periodic Coffee Table. If not, well, I would want it anyway, purely for its artistic geek quality! On second thoughts, forget the crafty bit – this is a must-have for any geek's coffee table.
I say "Accio World of Geekcraft!"
World of Geekcraft is available now from Amazon.