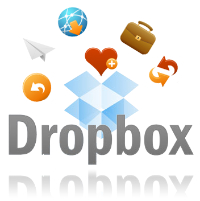 Each year, you're fate-bound to discover something life changing. It could be boys, it could be heather shimmer Rimmel lipstick, it could be JLS. For me, this year, it was Dropbox. I'm pretty sure that right now, if I was asked to choose between Daddy, chips and Dropbox, I would choose Dropbox (I would really miss chips, though).
On the surface, it's not that interesting – it's basically a replacement for an FTP site. But that's like saying that vodka is basically just fermented potatoes. Or Wolverine is basically just a man with some metal rods in his fingers. But if you work across two computers, or work in a business that means you often have to share documents remotely, you'll want to know about this. Basically.
The idea is that you install the software and then create a Dropbox folder on your desktop. You then create a Dropbox on your second computer, or in my case, my Partner in Crime/Business. Anything you then drop into the folder gets synced across to the second computer. You can have folders on as many computers as you like, all syncing to one account, and you get 2GB of storage free.
But it gets better!
Within the Dropbox folder you can structure sub folder in the same way you would in any other folder – Documents, Holiday photos, DO NOT LOOK. But there's an additional Public folder there by default which allows you to share files with anyone. Right click on the file name, and within the Dropbox submenu, you can choose to copy the link location. This then generates a URL which you can send to people. If it's a media file they can view it within their browser, if it's text or the like, they just choose which application to open it with. Zip the files and they can then download them for keepsies.
There is, of course, also an iPhone app, so you can send links and view documents on the move. And unicorns. It also comes with free unicorns (although only in the premium package).
So there – my find of 2009, shared with you. Share yours back?