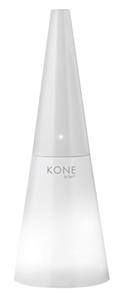 Let's face it, if you're buying the Vax Kone handheld vacuum cleaner, you're not buying it because you think it might be have the best suckage on the market, or because you suspect it of being capable of great multi-surface cleaning action: you're buying it because you think it looks all pretty and cone-shaped. And because it glows all blue when it's charging.
But it would be nice to know that it actually can perform the basic task for which it was created. And you'll all probably want to say a small prayer of thanks to the great cone god (Wizbit, presumably) that it is up to the job.
The sucking power isn't going to blow you away, so to speak, but handheld vacs are there for the sole purpose of spot cleaning, and if you've got a spot to clean, the Vax Kone will be there for you.
And when it's not there, it's on its charging dock, making a pleasing blue glow.
Gains points for…
Looking nice
Spot cleaning with ease
Nice price
Loses points for…
🙁 Being a bit tricky to empty thanks to the shape
🙁 Being a bit faffy to dock
Vax Kone, around £15-£25 on eBay