Over the last couple of weeks I have had a friend staying with me.
He gets up early, before I'm out of bed and vacuums for me. The living room, the hall and the kitchen are left tidy before I even get up. He even cleaned up after my rather messy Halloween party!
My friend is actually a robot.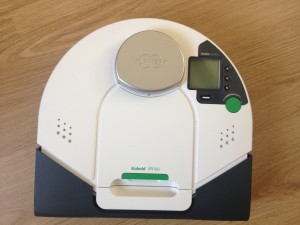 I don't want to sound too much like I am living in the future here, but it does feel a little like I am.
My 'friend' is the Vorwerk Kobold VR100 Robot vacuum
Related: Roomba from iRobot review
Robot cleaner review

The Vorwerk Kobold robotic vacuum  has different settings including a spot clean where you can have it clean just one space , or you can leave it to navigate and clean the whole room or even your entire house at the push of the big green button. The LCD screen menu is clear and simple to navigate.
The vacuum comes with metallic strips that you can leave as a barrier to stop it crossing into certain areas, for instance where there are loose wires (it will try to eat them).
I was worried initially when we left the vacuum upstairs to clean that it would attempt to go down them. But while it looked at one point like it was going to plunge to its death, the clever optical sensors did their job and it rotated on the spot and headed into the next room.
Cleaning in bed
I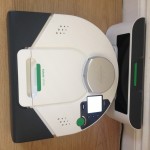 like to set a timer for the Kobold to clean before I get up at around 7am.
This means that while I am still upstairs the vacuuming is done so that I come down to tidy floors. It works well on my wood floor, bedroom carpet,  stone kitchen tiles and living room rug.
The heavy-duty wheels mean that the vacuum has no trouble going from rug, to floor, to tiles. The vacuum is small enough to fit under chairs and beds, giving awkward spaces a good clean. Being a crazy cat lady, I can also report that pet hair is no problem for the vacuum. In fact, it gets the fur up off of my rug to a better standard than my regular upright vacuum cleaner.
It is easy to empty with a small dust tray that I can lift off of the top of the machine and empty into the bin after cleaning.
When the cleaner finishes its job it will return to its docking station and head back to charge until the next time it is needed. Should the vacuuming take more than its hour battery life, it will head back to charge, and when it has enough charge to finish the job, it will pick up cleaning where it left off.
I really cannot find a fault with this vacuum cleaner. In fact the only people who were not impressed were my cats, who I think, may be plotting their revenge.
Are friends electric?
The Vorwerk Kobold VR100 Robot vacuum has an RRP of £649, you can buy it now from Amazon.
Right now £649 is a lot more than I personally have to spend on a vacuum cleaner and it's a lot more than iRobot's Roomba.
It really is better than my regular cleaner, though, and I don't even have to be around when the cleaning gets done. If you're lucky enough to have £650 to spend on a top-of-the-range vacuum cleaner, then I whole heartedly recommend this one.
Related: Roomba from iRobot review